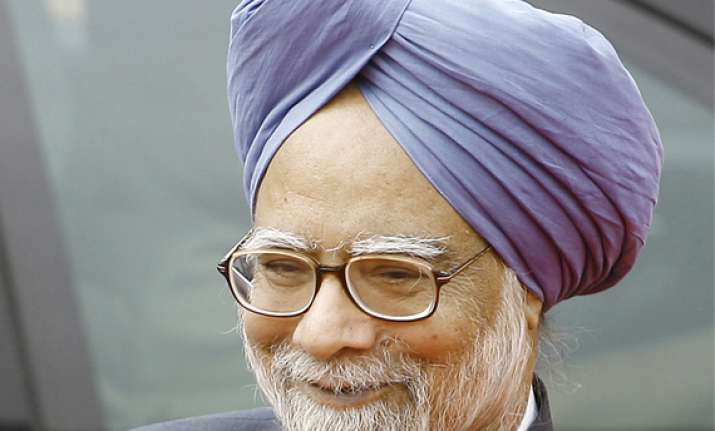 On Board PM's Special Aircraft, Jun 24: Rejecting the Opposition criticism, Prime Minister Manmohan Singh on Saturday said he did not see anything wrong in India's USD 10 billion (Rs 56,000 crore) contribution to the IMF for its USD 430 billion bailout fund created to assist the debt-wracked Eurozone tackle its financial crisis.
Defending the Government's decision, the prime minister said the contribution will be used up only if the need arose and asserted it will continue to be part of the country's reserves.
"I don't think there is anything wrong in our contributing to IMF. The contribution will be used only if needed and it will also continue to be part of India's reserves," Singh told reporters accompanying him on his return home from a eight-day foreign tour.
Prime Minister Singh came under attack at home after he announced at the Summit of the Grouping of 20 developed and developing countries (G-20) in Mexico early this week that India will contribute USD 10 billion to IMF's firewall of additional USD 430 billion to help the Eurozone.  The argument put forth by the critics was that India can ill afford to pledge such a huge amount when the country itself is facing an economic slowdown.
Singh said that before making the announcement he had a discussion among the BRICS leaders and all of them announced similar contributions.
BRICS comprises India, China, Brazil, Russia and South Africa. The five-nation bloc as a whole had decided at the G-20 Summit to contribute USD 75 billion to shore up IMF's finances to help tackle the Eurozone crisis.  
"As a responsible member of the international community it was our bounden duty also to make our contribution," he said.  
Singh said India would like the IMF to play an important role in resolving various difficulties that are on the horizon in the international economy and financial system.  
A day after the prime minister made the announcement, Indian officials at the G20 Summit said India may not be called upon to draw out the amount if there is an improvement in the world situation and concrete steps taken to defuse the crisis in the 17-nation Eurozone.