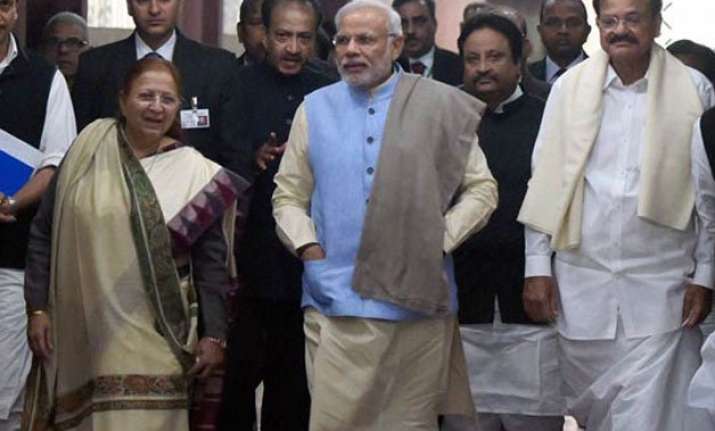 New Delhi: Ahead of parliament's Budget session, Prime Minister Narendra Modi, senior ministers and leaders of opposition parties will attend an all-party meeting called by the Speaker on Sunday, to explore consensus on passing key legislations.
Although, the government side seems to be positive in finding ways to pass key bills during the session, the same could not be seen at the main opposition Congress' front as it continues to refrain from offering any help to the government in either passing the bills or facilitating government's back-up plan of convening a joint session.
Government side is also claiming that Finance Minister Arun Jaitley and Parliamentary Affairs Minister Venkaiah Naidu have started negotiations with Congress leaders Ahmed Patel and Ghulam Nabi Azad on crucial bills however, the same has not been acknowledged by Congress.
As published in a report by Economic Times, a Congress source said that nobody from the government has approached Congress so far with any serious proposal.
He added similar rumors were spread during the last parliamentary session also that the government is trying to secure enough support from the opposition to get insurance and land acquisition bills passed.
Report further states that Congress might not reverse its opposition to the amended land ordinance. Infact, it has already started state-wise agitation against it and Rahul Gandhi is also expected to address a rally on the same during Parliament session.
However, it is learnt that the party which in principle is in agreement with the insurance bill, is leaving the onus on government to get the House in order to take up the legislation.
Due to NDA's lesser number of MLAs in Rajya Sabha, it requires Congress' support to pass the insurance bill.