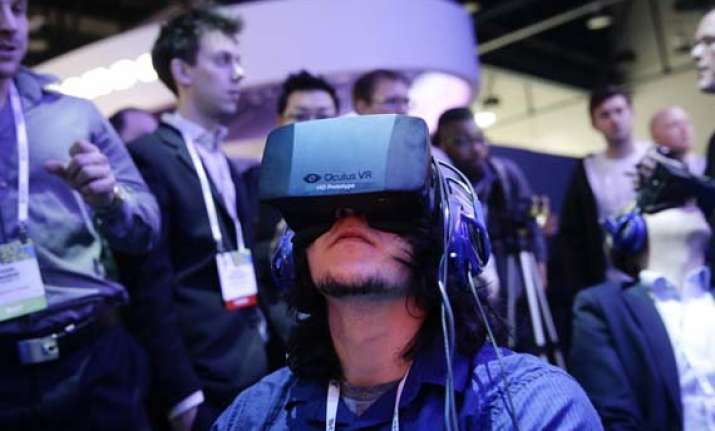 New York: Facebook has bought startup Oculus VR, which makes the much-hyped virtual-reality Rift headsets, for $2bn. The acquisition comes at a time when people spend more time with their friends in the digitial world which Facebook boss Mark Zuckerberg wants to dive deep into.
Facebook said that the deal includes $400 million in cash and 23.1 million shares worth about $1.6 billion. Oculus employees are also eligible for an additional $300 million if the company achieves certain targets.
Oculus makes the Oculus Rift, a virtual reality headset that's received a lot of attention from video game developers. It has yet to be released, but Facebook says Oculus has received more than 75,000 orders for development kits for the headset.
"Virtual reality technology is a strong candidate to emerge as the next social and communications platform," Facebook wrote in a blog post announcing the acquisition. "Facebook plans to extend Oculus' existing advantage in gaming to new verticals, including communications, media and entertainment, education and other areas."
"Oculus's mission is to enable you to experience the impossible. Their technology opens up the possibility of completely new kinds of experiences," gushed Zuckerberg this afternoon, US West Coast time.
"Immersive gaming will be the first, and Oculus already has big plans here that won't be changing and we hope to accelerate."
"Imagine enjoying a court side seat at a game, studying in a classroom of students and teachers all over the world or consulting with a doctor face-to-face - just by putting on goggles in your home," he added.
"We are excited to work with Mark and the Facebook team to deliver the very best virtual reality platform in the world. We believe virtual reality will be heavily defined by social experiences that connect people in magical, new ways. It is a transformative and disruptive technology, that enables the world to experience the impossible, and it's only just the beginning," said Oculus co-founder and CEO Brendan Iribe.
The upstart's VR goggles have also received support from gaming behemoth Valve Software, which is testing support for Oculus Rift in its Steam gaming platform via a service named SteamVR.
Today's acquisition follows Facebook's eye-watering $19bn buy of chat app WhatsApp – another pricey purchase that saw the social network decisively dish out dosh to give it access to a technology that threatened its core business of owning all data pertaining to your online social life. In the short term, WhatsApp's international cheap messaging tech posed a threat to FB as people become ever-more connected across borders.
It is Facebook's second big acquisition in as many months. Last month the social network announced that it would pay $19 billion for deal messaging startup WhatsApp, a deal that hasn't closed.
Zuckerberg has called Oculus a "unique" company with a major lead on rivals in technology, engineering talent and developer interest.
Zuckerberg said virtual reality technology is a computing platform unto itself, comparing it to personal computers, which revolutionized the world in the 1970s and 1980s, and mobile phones.
He said Facebook intends to let Oculus continue with its roadmap of development but help out with recruiting, marketing, infrastructure and opening doors to new partnerships. He said he intends not to make a profit on hardware but instead make the product affordable and ubiquitous so Facebook can look at generating revenue from services, software, advertising, virtual goods or other areas.
Facebook says Oculus has received more than 75,000 pre-orders for second-generation development kits for the headset at $350 apiece. The kits are to ship in July.
Sales of Oculus' development kits alone are 10 times bigger than all other headsets in the history of virtual reality, said Antonio Rodriguez, general partner of venture capital fund Matrix Partners, an early investor that put $18.5 million in Oculus starting last year.
Rodriguez said virtual reality could be used to enhance virtual tours of homes for potential buyers and for getting a flavor for distant locations before planning a vacation, say to Cancun.