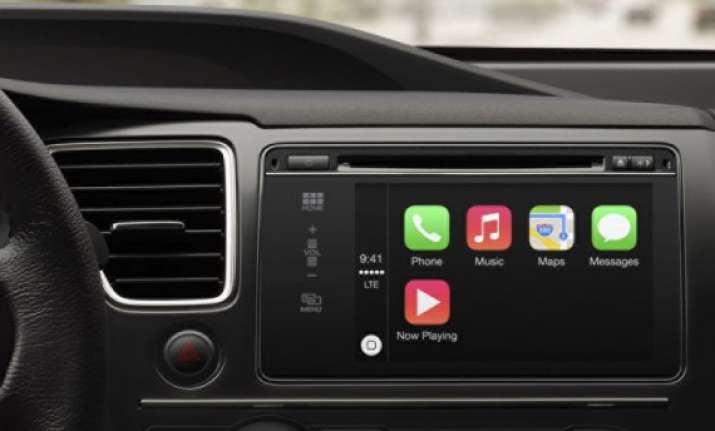 New Delhi: Apple has released CarPlay, a new software platform that will give iPhone users unprecedented integration with iOS in automobiles. With CarPlay, deivers can make calls and reply to messages within the car, use Apple Maps for navigation, and listen to music through their iTunes account.
Carmakers like Ferrari, Mercedes-Benz and Volvo will debut CarPlay, the company said, while saying that manufacturers such as Honda, Hyundai, Jaguar Land Roverwill also use CarPlay in some 2014 models. Other carmakers which have signed up include BMW, Ford, General Motors, Kia, Mitsubishi, Nissan, PSA Peugeot Citroën, Subaru, Suzuki and Toyota.
The new software platform CarPlay works like this: After connecting an iPhone with a car with CarPlay integration, you can access your contacts, make calls, return missed calls or listen to voicemails through Siri. Incoming messages and notifications will be read out by for an eyes-free experience.
Drivers can use CarPlay to find out about routes and navigation information. The software will track your recent destinations via your contacts, emails or text messages, and provides realtime routing instructions, traffic alerts and ETA. This is in addition to turn-by-turn directions that will be shown on the built-in display.
In addition, CarPlay gives you access to music, podcasts, audiobooks and iTunes Radio with your account.
CarPlay also supports select third-party audio apps including Spotify and iHeartRadio, so you can listen to your favourite radio services or sports broadcast apps while driving.
CarPlay is available as an update to iOS 7 and only works with the Lightning-enabled iPhone 5s, iPhone 5c and iPhone 5. It will be available in select cars shipping in 2014.