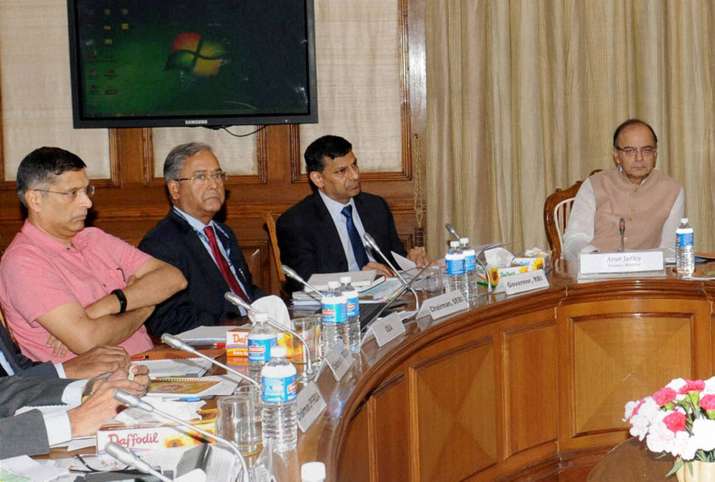 Mumbai: The outgoing Reserve Bank of India Governor Raghuram Rajan today took his critics head-on and and challenged them to show how inflation is "very low" before accusing him of "being behind the curve" in his focus on containing price rise than on growth and debunked such criticism as mere 'dialogues'. 
Rajan, who has been pilloried by his critics for keeping interest rates high and has also been accused of stifling growth, cited consumer price index (CPI)-based inflation surging for the fourth straight month in June to 5.77 per cent to defend his record. 
"This discussion (on being behind the curve) keeps going on without any economic basis. You saw the CPI numbers just last week -- 5.8 per cent is the CPI inflation, our policy rate is 6.5 per cent," he said. 
Asserting that he does not "really pay attention to this kind of dialogues", Rajan said those calling him behind the curve should explain how inflation is very low to warrant lower interest rates. 
One of the biggest criticisms of Rajan's monetary policy has been by BJP MP Subramanian Swamy, who accused him of being "mentally not fully Indian" and had sought his dismissal. 
Amid unrelenting personal attacks, Rajan last month announced that he would step down at the end of his three-year tenure on September 4 and return to academia. 
On GDP growth figures, the Rajan said he has refrained from "thumping on the table" to put a number on GDP growth, adding people sometimes get "overly fixated with a particular growth number", though figures like 7.6 per cent and 8 per cent are within the same range. 
Speaking to a select group of journalists here on a wide range of issues, Rajan said regarding financial inclusion, it is not possible to have bank branches in every village because that would be too expensive, but RBI is exploring other options like mobile branches and mini or micro branches. 
Asked what message he would like to give to his successor, Rajan said, "Wait for monetary policy." 
RBI's next bi-monthly monetary policy review meeting is due on August 9, which would be Rajan's last. 
"I am not sure where we are behind the curve. You have to tell me that somehow inflation is very low for us to be seen as behind the curve," he said. 
The consumer inflation is currently near its two-year high and close to the upper end of the central bank's inflation target of 2 per cent to 6 per cent. 
On challenges facing the economy, Rajan said, "I think the challenges have been relatively same for quite sometime, which is we are in the midst of a recovery." 
Rajan, who has often criticised the government and its policies, said there is "lot of frustration" about the pace of economic recovery, but attributed it to the two successive droughts, weak global economy and external shocks like Brexit. 
"There is a lot of frustration with the pace of the recovery but we should remember that it is in the face of two consecutive droughts and with a global economy which has been quite weak. And of course with number of shocks coming from the global economy such as what we saw most recently with Brexit," he said. 
The Governor said given these domestic and external factors, "the performance of the Indian economy has been quite creditable." 
"And I think that the hope is with the good monsoon which we are seeing just now, that sentiment gets elevated especially in rural areas, rural consumption picks up more strongly, the agricultural sector gains strength, the rural industry gains strength and overall demand starts picking up more strongly. I think that certainly is our expectation and we will see how that plays out," he said. 
Rajan said the challenge is to strengthen the process by undertaking all the reforms that are needed. 
"There is a lot of talk nowadays about GST being done in monsoon session. That would be a good thing. I think from our perspective at the RBI, the number of issues that we are working on and trying to accelerate the structural reforms process, so let's see what we can do," he said. 
Rajan said he has refrained from "thumping on the table" to put a number on GDP growth. 
"Our last projection was 7.6 per cent and I think as the monsoon develops, as the global economy develops, clearly there will be changes in that. But I think we sometimes get overly fixated with a particular growth number -- 7.6, 8, they are all within the same sort of range of numbers," he said. 
The Governor said the focus should be on undertaking all the actions needed to ensure that growth is strong and sustainable. 
"And that means macro stability, that means the kind of structural reforms we are doing to enhance the pace of growth. I think those are really what we should be focussed on rather than whether it is half a percentage point up or down," he said. 
On financial inclusion, the RBI Governor said there cannot be bank branches in every village because it would be too expensive. 
"Now one possibility is a mobile branch and some banks are bringing in a mobile branch which travels from village to village and stays at a particular fixed time in village," he said. 
Also, RBI is exploring definition of a branch to see if mini, micro and mobile branches can fit into it, he said, adding there is a need to work with new institutions as well as technology. 
"We have given the in-principle licence to Postal Payment Bank. When it is licensed formally, that would bring a lot of Post Offices into the process and so you can put in money and take out money," he said. 
Also, with the mobile companies coming in, money can be put in or taken out from a mobile kiosk. 
So, if a mobile company has 1.5 lakh kiosks selling mobile cards, these can be used to take in money or give out money. This "could be a big game changer," he said. 
Rajan said by the end of this month, the universal payment interface (UPI), which allows one to make payment from one bank account to another, will be in place. 
"So I think, with the UPI, and I am telling you a two stage process... One, we have to make it easier to take out and put in money, the kiosks will help, the Post offices will help. 
"But also the need to take out money or put in money will reduce if I can do directly into the bank account, if I can make payments electronically and I think UPI will help there. 
So my hope is these things will actually reduce the problem," he said.
Rajan says no plans to write tell-all book 
Mumbai: Outgoing RBI Governor Raghuram Rajan, known for his outspoken ways, has no "immediate plans" to write a tell-all book on his experience as the central bank head, unlike his predecessor D Subbarao whose quite revealing memoir has just come out. 
Rajan, who was accused by critics of keeping interest rates too high and was often seen as being critical of the government and its policies, making his tenure full of several controversies, said he rather plans to write on "academic issues" after leaving the Reserve Bank. 
"I have no immediate plans to write a book on this subject," he said when asked whether he would write a book similar to Subbarao's a few years down the lane. 
"I will write on academic issues," Rajan told a select group of journalists here. 
He refused to take any questions on his decision not to seek a second term or on political criticism. 
Subbarao, who served as RBI Governor for five turbulent years between 2008 and 2013, in his just-released book 'Who Moved My Interest Rate', has written about several occasions when he felt pressure from the then Finance Ministers P Chidambaram and Pranab Mukherjee to cut interest rates. 
He also said "there is a price to pay, of course, for not falling in line", referring to the government's refusal to accept his recommendations in appointment of Deputy Governors. 
While a tussle has been noticed between the RBI Governor and the government for years, it is said to have escalated in recent years, while Rajan has often been seen as being critical of the government, including on non-economic matters. 53-year-old Rajan surprised everyone last month by announcing that he would not seek a second term at RBI at the end of his current three-year tenure on September 4 and would return to academia. 
Ten of the 22 governors so far -- including Rajan's three immediate predecessors -- served at least five-year terms. Two of them -- in 1937 and 1957 -- resigned early due to differences with the government. 
Rajan, a former Chief Economist at IMF and on-leave Professor of Finance at the Chicago University's Booth School of Business, was appointed RBI Governor by the previous Congress-led UPA government in September 2013. 
When he took charge, rupee was at a record low and the inflation rate was among Asia's highest. While he is credited for having stabilised the forex market, he is also criticised for holding interest rates high for a long time. He began lowering the rate only last year after global oil prices crashed has since brought down the benchmark rate to a five- year low of 6.5 per cent. 
He is now in the midst of a USD 120 billion clean up of stressed assets in the banking system. 
(With PTI inputs)