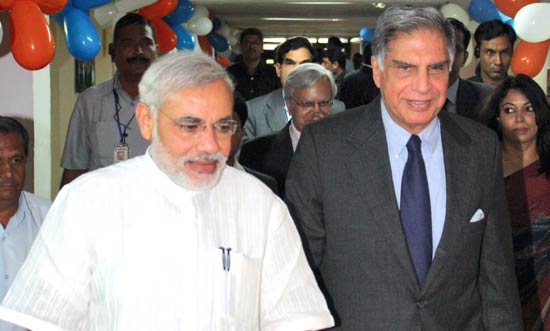 Noted industrialist Ratan Tata today lauded Prime Minister Narendra Modi's decision to 'demonetise' high-denomination currency notes and asked the countrymen to support his courageous initiative. 
He termed 'demonetisation' as one of the three most important economic reforms in India.
"Demonetisation is amongst the three most important economic reforms in India's history, along with delicensing and GST," Ratan Tata said in a tweet.
"The Prime Minister's recent focus on mobile and digital payments will also greatly facilitate the transition from a cash-driven economy to a cashless economy, which in the long term will enormously benefit the poor and underprivileged," he added.
The government's bold implementation of the demonetization programme needs the nation's support. pic.twitter.com/tx1ZILSor8

— Ratan N. Tata (@RNTata2000) November 26, 2016
Asking people to support the Prime Minister on this issue, Ratan Tata said, "The government's firm resolve to fight and eliminate black money needs the support and cooperation of all like-minded citizens of India who would like to see more equitable distribution of the nation's resources in a new India of tomorrow, based on merit and equal opportunity,"
"The Prime Minister has displayed enormous courage in waging war on the black market economy in the country through the implementation of a major demonetisation programme," he added.
He also pointed out that the parallel black money economy in India has fuelled tax evasion, money laundering and corruption in the country.