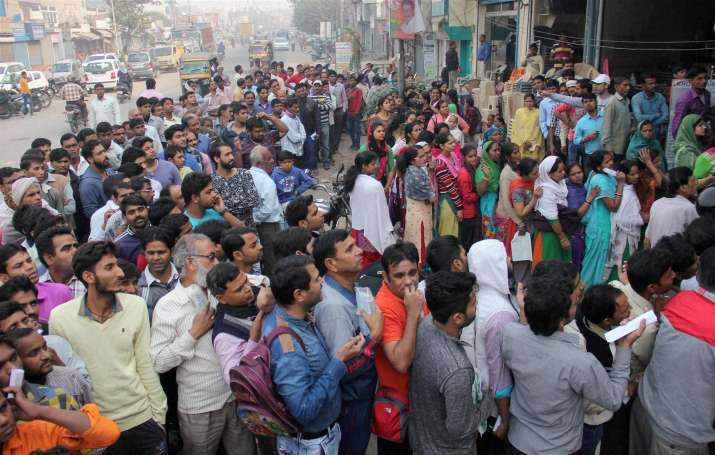 In an attempt to check the misuse of the exchange facility and reduce long queues at bank branches, the government has directed banks to use indelible inks over the counters to exchange Rs 500 and Rs 1,000 currency notes.
From Wednesday, those visiting banks for exchanging notes will have indelible ink put on their finger to check the multiple cash withdrawals by the same people from the banks.
A government official in Delhi said the plan was to disburse the ink to banks from Tuesday night. He said that it would be applied on fingers of the right hand of customers to "ensure there was no confusion during the elections coming up in many parts", when indelible ink would be applied on the forefinger of the left hand of voters.
Announcing the use of indelible ink on Tuesday, Economic Affairs Secretary Shaktikanta Das said, "We have received reports that certain unscrupulous elements, who are trying to convert black money into white, have organised groups of innocent people and are sending them from one branch to another to exchange notes and get Rs 4,500 each. As a result, what is happening is that the benefit of withdrawal of cash is getting restricted to a smaller number of people…to prevent such kind of misuse, the branches of banks will take recourse to the use of indelible ink marks for disbursement of cash."
Mr. Das, earlier in the day, also announced the formation of a special task force to monitor the infusion of fake currency in to the market, especially in the vulnerable areas of the country. He pointed out that Prime Minister Narendra Modi reviewed the supply of currency for the second time in two days on Monday night.
A week into the surprise decision by Prime Minister Narendra Modi to scrap high-value banknotes to fight black money and counterfeiting, queues outside ATMs and banks remain long and are more unruly.
The move has disrupted life. Over the week, elderly people have collapsed in queues, patients denied treatment and at least 23 deaths have been linked to panic over the crisis. In a major clampdown on black money, Prime Minister Narendra Modi on October 8 demonetised Rs 500 and Rs 1000 notes, sending flutters down the Indian economy. The move, with all its noble intentions, has also caused public inconvenience as people running dry on cash are waiting for hours outside banks, post offices and ATMs.
It has also resulted in loss of "man hours" and "production".
The opposition has united to corner the government on the issue of demonetisation and a stormy winter session is expected in the parliament from today.
Leader of the Opposition in the Rajya Sabha Ghulam Nabi Azad alleged the decision to invalidate Rs. 1000/500 currency notes was leaked in advance to some people, including BJP leaders, and called it probably the "biggest scam". He, however, added that his party is not for a rollback of the drive.