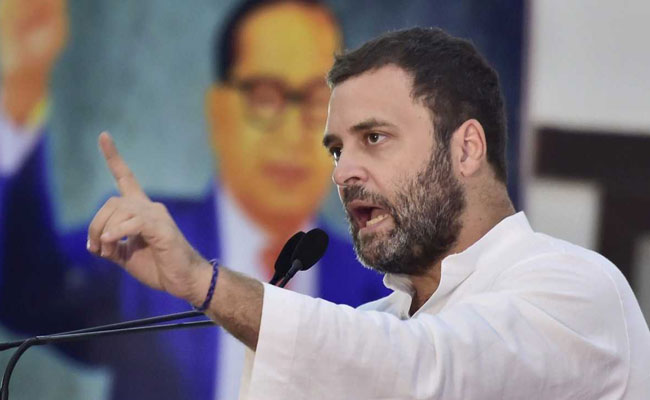 Congress President Rahul Gandhi today targeted government over the Union Budget 2018-19, which was presented in the Lok Sabha, saying that "it is still promising farmers a fair price", and has failed to provide jobs to the youth. 
"4 years gone; still promising FARMERS a fair price. 4 years gone; FANCY SCHEMES, with NO matching budgets. 4 years gone; no JOBS for our YOUTH. Thankfully, only 1 more year to go," tweeted Rahul. 
In an expected move to reconcile the persistent rural distress, Finance Minister Arun Jaitley today announced to increase the Minimum Support Price (MSP) of crops to at least 1.5 times of the production cost. 
In line with the BJP's poll promise before coming to power in 2014, the Finance Minister announced that the Minimum Support Price (MSP) for unannounced kharif crops will be 1.5 times the input cost and stepped up the institutional credit for the sector to Rs 11 lakh crore -- 1 lakh crore more than last year.
The finance minister also said that the government is aiming at doubling the farmers' income by 2022 -- a poll promise by the BJP in 2014 general elections and 2017 UP elections.
The government also announced two new initiatives under the Ayushman Bharat programme – setting up of 1.5 lakh Health and Wellness Centres and the flagship National Health Protection Scheme. The schemes are not only expected to address health care but also "generate lakhs of jobs, particularly for women".
Jaitley also set a target of Rs 3 lakh crore for lending under MUDRA for 2018-19. The Pradhan Mantri MUDRA Yojana, which provides access to institutional finance to small business units and entrepreneurs, has already led to 5.5 crore jobs since its launch in 2015.