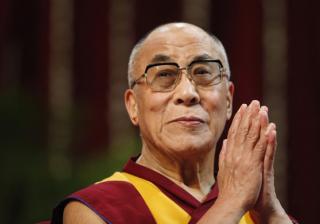 Reacting sharply to the Dalai Lama's harsh comments against Chinese hardliners, China today termed him a 'deceptive actor'.
The Tibetan exiled leaders had said in an interview to US comedian John Oliver in Dharamsala that Chinese hardliners have parts of their brains missing.
"The Dalai Lama's comments in the interview perhaps appeared humorous and funny, but these words are all lies that do not accord with the facts," China's Foreign Ministry spokesman Geng Shuang was quoted as saying by news agency Reuters.
Geng Shuang further reiterated that in China's opinion, the 14th Dalai Lama is a political exile who wears religious clothing to engage in anti-China separatist activities.
"Now it seems he is an actor, who is very good at performing, and very deceptively," he added.
The Dalai Lama, however, has always denied charges of espousing violence and maintains that he is only interested in genuine autonomy for Tibet.
The Dalai Lama fled into exile in India after a failed uprising against Chinese rule in 1959.