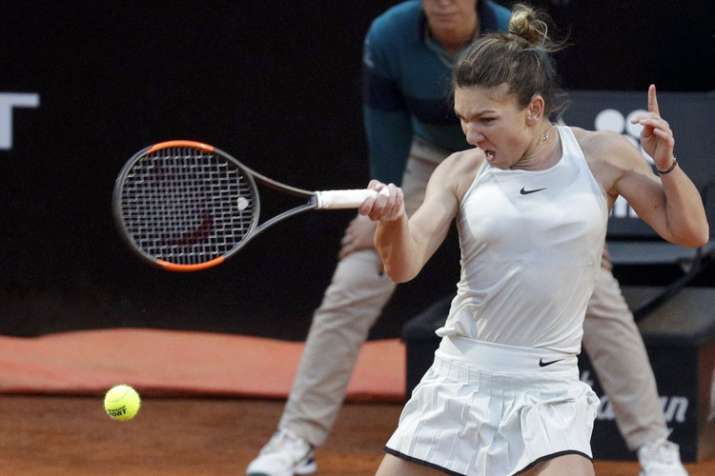 Simona Halep has learned from her mistakes, and she is hoping to put her newly acquired knowledge to the test at this year's French Open.
The top-ranked Romanian led Jelena Ostapenko by a set and 3-0 in last year's final at Roland Garros. She looked to be on the verge of claiming her first Grand Slam title on the Parisian clay, but fell apart and eventually lost to the unseeded Latvian in her second French Open final.
"I've learned that I have to be more aggressive in that position, when I'm leading the match," the 26-year-old Halep told The Associated Press on Thursday, a few hours before the draw for the French Open, which starts Sunday.
"I think I was not ready to win the match," she said. "But it's also a good experience. Maybe if I face the same situation in the future, I will be much better."
Halep, who needs to reach the semifinals in Paris to have a chance of keeping her top spot in the rankings, said she has put in a great amount of work since last year's final, making her believe she is a better player.
"I improved a lot, also mentally," said Halep, who has often been betrayed by mental frailties. "My game is a little bit stronger, more complete. I feel my movement on court is stronger. I also worked a lot on my serve. It's not easy to serve, because I'm not that tall, but I'm trying to be more consistent and to deliver heavier serves."
Will it be enough to finally lift a Grand Slam trophy after finishing runner-up three times at majors?
"I had three chances, you never know when the luck is (coming)," said Halep, who was beaten in the Australian Open final this year, and lost her first final at Roland Garros to Maria Sharapova in 2014. "I just need to stay the same, confident and focused."
Halep arrives in Paris with 9-3 record on clay. She was runner-up last week in Rome after beating Sharapova in the semifinals, a win she said boosted her morale.
"It gives me confidence for sure," Halep said. "Every time I play against her, it's a tough match, and the fact that I won the last two matches gives me more confidence."
Halep was then beaten in straight sets by Elina Svitolina in the final as she appeared to struggle physically.
"It was just a little bit of a stiff muscle, not an injury," she said. "I was tired a little bit after the semifinals. I'm feeling good now, and ready to start the tournament."