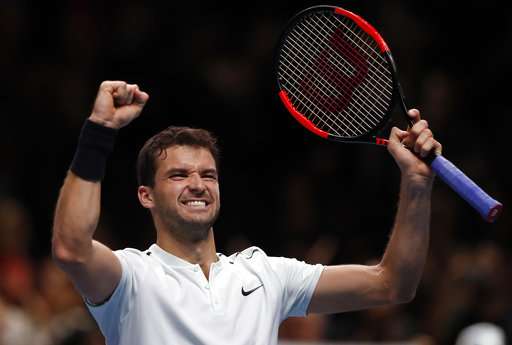 The coaching seemed to have helped, whether Grigor Dimitrov heard it or not. The sixth-seeded Bulgarian made his way into the semifinals at the ATP Finals on Wednesday by beating David Goffin 6-0, 6-2, but he was given a violation of coaching during the second set.
A linesman informed the chair umpire of the infraction during the fifth game of the final set, and Dimitrov reacted by saying he didn't hear anything.
He probably didn't need any extra advice anyway, not after the way he was playing, and the way Goffin was, too.
Dimitrov ended up winning 34 of the 47 points he served and won 32 of the 57 points served by Goffin.
In the first set, Dimitrov lost only two points on his serve and twice broke Goffin without even going to deuce. Goffin finally managed to hold serve in the second set, but Dimitrov still was able to break the Belgian's serve two more times.
The win gives Dimitrov a 2-0 record and ensures he will play on the weekend in his debut at the season-ending tournament. Roger Federer has also already qualified for the semifinals.
In Wednesday's late match, Pablo Carreno Busta will face Dominic Thiem. Carreno Busta will be playing his first match at this year's tournament after stepping in to replace the injured Rafael Nadal.
Dimitrov, who won three tournaments this year and reached the semifinals at the Australian Open, will next face Carreno Busta on Friday. Goffin will play Thiem that same day.