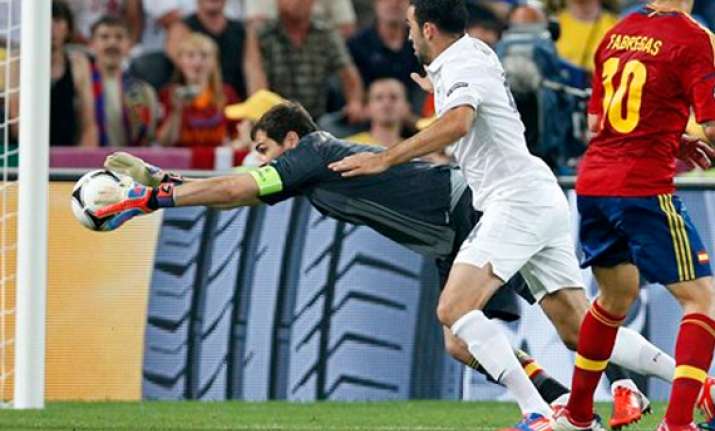 Ukraine, Jun24: France's coach and football federation criticized Samir Nasri on Sunday for the midfielder's expletive-laced rant at a journalist following the team's 2-0 defeat to Spain in the European Championship quarterfinals.
Nasri was walking through the post-match interview area when the heated exchange took place after the journalist asked him for a reaction to Saturday's defeat. Reports said that as the dispute escalated, Nasri challenged the journalist to take their argument further.
"It's a lack of respect toward the journalist," coach Laurent Blanc said on French football show Telefoot. "I told (Nasri) what I thought of it and what I would have done in his place. It's very unfortunate."
French Football Federation President Noel Le Graet said Nasri had "fallen out of line" again and described him as "hypersensitive." He said the FFF will address the issue.
"He has a difficult way of behaving," Le Graet said. "We will discuss things and take a look at his problem."
Nasri, who came on as a second-half substitute against Spain, had a tense relationship with French media throughout the tournament.
After scoring the equalizer in the 1-1 draw with England in their opening game, Nasri ran toward the touchline in celebration and shouted "Shut your mouth" in French. He then brought his finger to his lips to tell a journalist to hush.
"There is a problem between Nasri and the press. That's the truth," Blanc said. "The comments are very violent and it's been proven that they were said."
At the 2010 World Cup, striker Nicolas Anelka received an 18-match ban after insulting coach Raymond Domenech in the dressing room.
Several players—including captain Patrice Evra—received shorter bans for their part in a training-ground strike in protest at Anelka being sent home.
While France never reached such lows at Euro 2012, several players—including Nasri, midfielder Alou Diarra and winger Hatem Ben Arfa—were involved in a heated dressing-room bust-up following the 2-0 defeat to Sweden in the final group game.