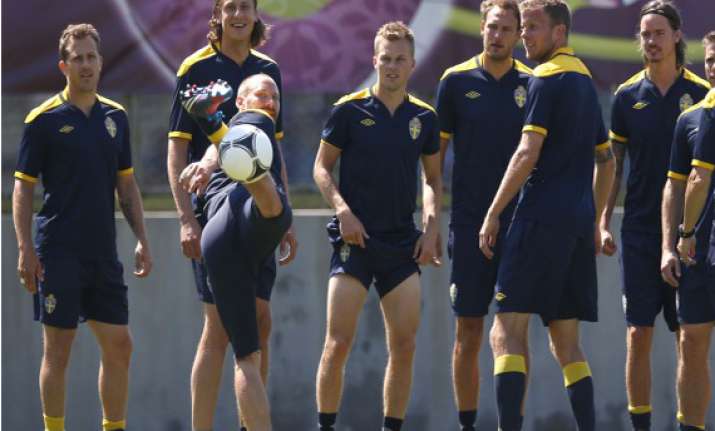 Kiev, Ukraine, June 19 :  With no chance of advancing at the European Championship, Sweden is treating its final game against France as a springboard for a good qualifying campaign for the 2014 World Cup.
Midfielder Kim Kallstrom and coach Erik Hamren said the team is determined to leave Kiev with a victory after two losses against Ukraine and England—not just to salvage some pride but to boost the team's confidence ahead of its first qualifier for Brazil in September.
Both dismissed any notion that motivation would be an issue for a game that is essentially meaningless for Sweden but still has ramifications for who advances from the group.
"This is a big tournament and we've waited a long time for this. For us this is about finishing the job and preparing ourselves for World Cup qualifying," Kallstrom said. "We are here to win and show our best side."
Sweden held second-half leads in both its games before allowing comebacks, and there is a widespread feeling in the team that it let this tournament slip away too cheaply.
But both Hamren and the players have freely admitted that the team's defense simply hasn't been good enough—conceding five goals in two games—and the coach said the France game on Tuesday is the first opportunity to start setting things right.
"We have to use every opportunity we have to work on the things we need to," Hamren said. "We have to get better to have a chance of advancing at the next tournament."
France needs at least a draw to guarantee a spot in the quarterfinals, but would go through even with a loss if England beats Ukraine in the other Group D game. Sweden, meanwhile, is already looking ahead to Brazil.
The Swedes start qualifying at home against Kazakhstan on Sept. 11 in Group C, which also includes Germany.
"If we win tomorrow we don't have three points in the World Cup but we have a lot of feelings and self confidence when we start the World Cup qualification," Hamren said. "It means a lot for us."
Hamren offered the players a day off on Sunday with just a voluntary training session but the whole team still showed up for practice, which Kallstrom said showed their desire to go out fighting.
"Everyone felt that we are here for playing. We want to play our third game," the Lyon midfielder said. "It was a nice gesture by the coach, but it showed also the determination of the group to play well tomorrow."
Hamren said he will rest Johan Elmander for the game as the Galatasary forward is still feeling the effects of a right foot fracture, while midfielder Rasmus Elm is questionable because of illness.
West Bromwich Albion defender Jonas Olsson flew home over the weekend for the birth of his daughter but returned to the team and trained on Monday.
Hamren said he would not use the game to try out some of the fringe players and see how they stack up against a strong opponent, pledging to "use the players who give us the best chance of winning the game."
Because World Cup qualifying isn't the only reason the Swedes want a victory.
"It's not only for us, it's for our supporters," Hamren said. "It's for the other teams (Ukraine and England), too. But most of all it's for ourselves, to get self respect."