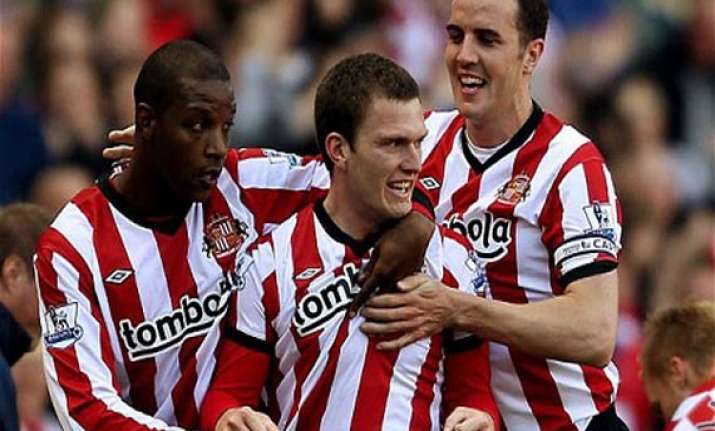 SUNDERLAND, England: Sunderland maintained Friday that Premier League rivals have not pushed for further action against the club after it was secretly fined for fielding an ineligible player.
South Korea striker Ji Dong-won made four Premier League appearances earlier in the season without having the correct international clearance.   
Rather than having points docked, Sunderland was handed an undisclosed fine. The sanction was imposed in December, but the league kept the process secret and has never commented on it.   
News of the punishment was leaked Thursday and confirmed by Sunderland after executives from the Premier League clubs met on Friday.   
"No issues were raised by any club," Sunderland said on its website. "Sunderland AFC confirmed that they had complied with all procedures and the Premier League stated that the player was duly registered on the extranet system and in all other Premier League mechanisms.   
"The club has never accepted any wrongdoing, but did acknowledge that a technical fault occurred and as such were fined by the Premier League accordingly in December."   
Sunderland, which insisted the "matter is now closed," is next-from-bottom in the league, four points from safety with eight games remaining. A points-deduction would have further hurt its hopes of avoiding the drop.   
Former Sunderland manager Steve Bruce, who signed Ji in June 2011 and is now in charge at Hull, questioned the apparent leniency of the punishment.   
"That's pretty bizarre stuff that it's only surfaced now and he's played in four games," Bruce said. "They should be in serious trouble, I would have thought."   
In official FIFA games, if a team is discovered to have fielded an ineligible player a 3-0 loss is awarded by default.   
Sunderland's administrative blunder happened after Ji returned ahead of this season from a loan spell with German club Augsburg, which he joined permanently in January. 
Manager Gus Poyet, who was not in charge of Sunderland when Ji wrongly played, previously advocated an opponent's points being awarded to his Brighton team when Hartlepool fielded an ineligible player.