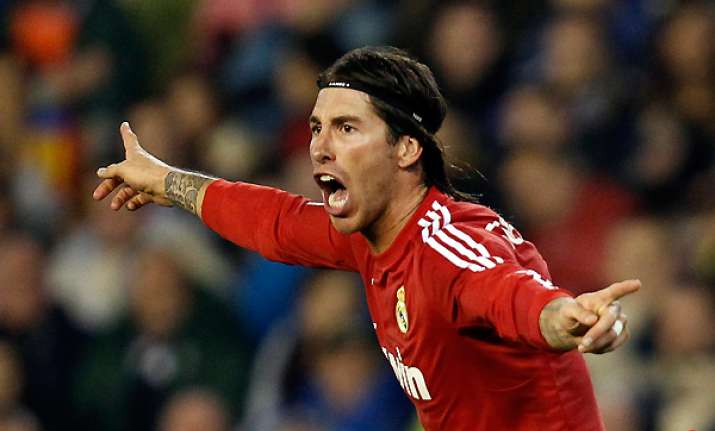 Barcelona, Nov 20: Spanish leader Real Madrid outlasted Valencia 3-2 in a thrilling contest to remain three points ahead of Barcelona after the Catalan side cruised to a 4-0 win over Zaragoza on Saturday.

Valencia marked a fast pace at Mestalla Stadium, but Madrid's individual talent and disciplined defense kept it in control in a physical contest marked by various bookings until a wild final 15 minutes.

"It was a hard fought win, one that we will remember looking back on this season," said Madrid goalkeeper Iker Casillas.

Karim Benzema, starting in place of Gonzalo Higuain in strike, latched on to Xabi Alonso's quickly taken free kick and fired it into the right side of the net to put Madrid ahead in the 20th minute.

Madrid looked set to enjoy a comfortable win after defender Sergio Ramos headed Mesut Oezil's corner off the right post and into the net in the 71st, but the game instead turned into a shootout.

Four minutes later striker Roberto Soldado blasted in a loose ball from outside the area to give Valencia some hope.

Cristiano Ronaldo immediately responded for Madrid with his 14th goal of the season when he beat Valencia goalkeeper Diego Alves to a long pass before slotting the ball into the empty net from a tight angle.

Madrid coach Jose Mourinho enthusiastically celebrated what looked to be the decider by rushing off the bench and jumping onto the back of unused substitute Jose Callejon on the sideline.

The run of play, however, swung back in Valencia's favor when Soldado redirected Pablo Hernandez's backpass by Casillas in the 82nd.

Valencia had one last shot to snatch a draw deep in stoppage time, but substitute striker Aritz Aduriz's header hit the crossbar as Madrid held on to claim its eighth straight victory in league play.

"This was the kind of game that helps bring a team together," said Ramos. "We have taken a big step forward with this win. At the beginning we got ahead, but then they were closer to the draw at the end."

Valencia's second loss of the season left it in third place, seven points behind Madrid.

Earlier, Barcelona's precision passing game kept Zaragoza on the back foot as the three-time defending champions had little trouble extending their excellent start to 20 games without a loss this season.

Gerard Pique and Lionel Messi scored before halftime, with Carles Puyol forcing Zaragoza defender Maurizio Lanzaro into adding an own goal before David Villa capped the win late.

Barcelona has outscored its league opponents at Camp Nou 30-0 in seven games this season.

"The key is our players, there is no other," said coach Pep Guardiola.

While Guardiola left Villa and Andres Iniesta on the bench to begin the game with his team set to play AC Milan on Wednesday in the Champions League, he started Messi despite his recent matches and travels with Argentina.

The long international break appeared to show early as Barcelona dominated possession but lacked spark in attack.

But that soon changed when Xavi Hernandez picked out Pique charging into the area unmarked to head home his free kick for the 18th-minute opener.

"Sometimes it is good to take advantage of set-pieces when teams play back in defense," said Pique, adding that he wasn't concerned with Madrid's top form. "We just have to focus on ourselves. There is a lot of league left to play."

Ahead in the score, Barcelona began to bombard Zaragoza's area with only Roberto Jimenez's goalkeeping denying the hosts a quick second goal as he saved shots from Messi, forward Alexis Sanchez and left-back Maxwell.

Messi provided a constant threat with his advances through the middle of the defense, and he soon took his league-leading goal tally to 15 when he received Cesc Fabregas' pass inside the area and shot by Roberto with a low right-footed strike. It was the star's 50th goal for Barcelona in 2011.

Zaragoza showed some effort to cut the deficit after halftime, but the result was soon put beyond doubt when Lanzaro pushed the ball across his own goalline in a desperate attempt to stop Puyol from tapping home a rebound of his own strike that Roberto had done well to block.

Villa went on with Iniesta as substitutes and the Spain striker was alone in the area in the 75th to head in B-teamer Isaac Cuenca's cross for his first goal in seven league games.

Elsewhere, Borja Valero's first-half goal gave Villarreal a 1-0 win over visiting Real Betis for its third win of the season.

On Sunday, it's: Real Sociedad vs. Espanyol, Osasuna vs. Rayo Vallecano, Sporting Gijon vs. Getafe, Sevilla vs. Athletic Bilbao, Atletico Madrid vs. Levante, and Granada vs. Mallorca.

Racing Santander hosts Malaga on Monday.