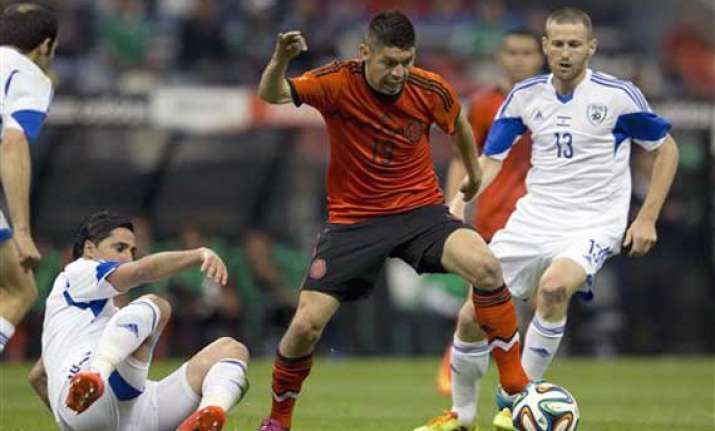 Mexico City: Mexico got two goals from Miguel Layun to beat Israel 3-0 in a pre-World Cup friendly on Wednesday, but got a scare when starting goalkeeper Jesus Corona was injured in a collision with a teammate.
Layun scored in the 42nd and 62nd minutes, and Marco Fabian added a goal in the 85th.   
Corona sustained a head injury after crashing into Francisco Rodriguez and was replaced in the 70th by Guillermo Ochoa. He was the team's starter through most of Mexico's World Cup qualifying campaign and the 2013 Confederations Cup in Brazil.   
"We don't know yet what is wrong with Jesus. He is going to be tested and then we can give a status," coach Miguel Herrera said. "I spoke briefly with him and he said that he was fine, but we need to wait."   
Herrera did not rule out going on its pre-World Cup U.S. tour without him.   
Mexico will play Ecuador in a friendly on Saturday in Arlington, Texas, then face Bosnia-Herzegovina on Tuesday night in Chicago and close its warm-up schedule against Portugal on June 6 in Foxborough, Massachusetts. The team travels to Sao Paulo the next day.   
Mexico plays its first World Cup match against Cameroon in Natal on June 13, followed by its likely toughest test against Brazil on June 17 in Fortaleza. The Mexicans then play Croatia on June 23 in Recife.   
Mexico great Cuauhtemoc Blanco, who played in three World Cups and is the second all-time leading scorer for "el Tri," made his final international appearance in Wednesday's match against Israel.   
The 41 year-old Blanco, the only Mexican to score in three different World Cups, still plays in the Mexican league for Puebla.