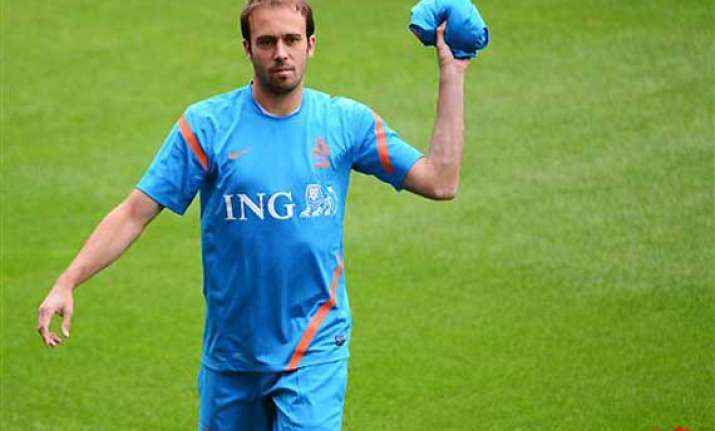 Krakow (Poland), June 5: Even fully fit, the Netherlands defense was always going to be the team's soft spot at the European Championship. Struggling with injury makes it even worse.
On Tuesday, central defender Joris Mathijsen only briefly rejoined group training with the team, raising questions about his fitness for Saturday's opening Group B game against Denmark.
And his partner at the heart of defense, John Heitinga, reduced himself to cycling on a stationary bike while his teammates had a light training session. The Everton player warned it was just a bit of rest after a long season.
Mathijsen was finally back on the field Tuesday after a left hamstring injury kept him sidelined for 10 days of vital championship preparations. He was injured during the 2-1 loss to Bulgaria on May 26.
He teamed up with Heitinga in the 2010 World Cup final, where the Dutch lost to Spain, and was the linchpin in defense throughout qualifying. His loss would be a bitter blow for the Dutch as they prepare for the toughest Euro 2012 group, which also includes Germany and Portugal.
Under a steady rain, Mathijsen warmed up with the team and joined in some ball exercises before he was forced to test his hamstring again with individual runs.
Netherlands coach Bert van Marwijk insisted Mathijsen's recovery was going to plan as he would steadily increase training ahead of Saturday's opener in Kharkiv, Ukraine.
'Training intensity will be increased to 70 percent and if that goes well, it should be driven up to 100 percent," said Van Marwijk, adding he was `'hoping" Mathijsen would be able to play on Saturday.
After last weekend's 6-0 win over Northern Ireland, Mathijsen had said he was confident he would meet the deadline.
'It's not as if I haven't done anything over the past week. I was training, but not at the same level as the rest of them," Mathijsen said.
All through their careers, Mathijsen and Heitinga have not been able to count on the support defenders like Frank de Boer or Phillip Cocu had. Yet Mathijsen and Heitinga still anchored the Dutch to two European tournaments and the final of the 2010 World Cup.
So, Heitinga knows how important it is to stick together.
'Clarity and steadfastness is very important to me," he said Tuesday.
It is what the Dutch have been lacking on the defensive wings. Even though Gregory van der Wiel is quickly developing as a sturdy right winger with Ajax, it is the left which is posing the Dutch problems.
Long dominated by Giovanni van Bronckhorst, the position has been up for grabs since his retirement after the 2010 World Cup. Jetro Willems made only his second appearance in the position during Saturday's 6-0 drubbing of Northern Ireland.
Still, Van der Wiel is not downbeat and said the defense has been uniting since the last World Cup.
`'Everybody is two years further now and everybody is two years older, including me, and more experienced," Van der Wiel said. "Some people had a great season this season so I think it will help us for sure."