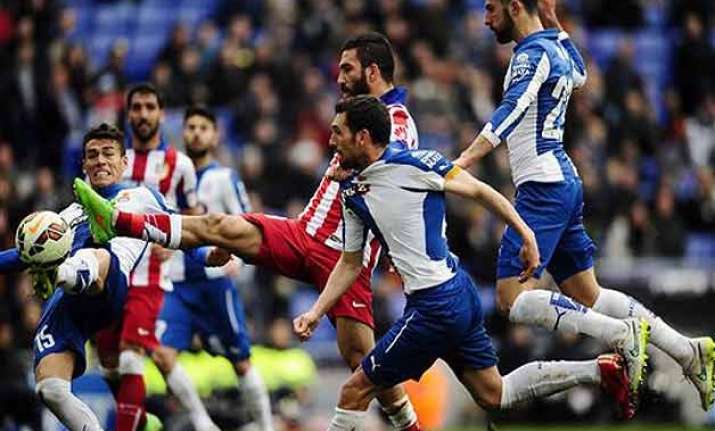 Atletico Madrid's dwindling hopes to defend the Spanish league title took another blow after a 0-0 draw at Espanyol on Saturday.Atletico dominated the match until defender Miranda earned a direct red card for smashing his arm into Abraham Gonzalez's head in first-half injury time.
Espanyol controlled possession the rest of the way, but needed goalkeeper Kiko Casilla to deny Raul Garcia and Arda Turan late.Atletico were left in fourth place after Valencia moved ahead into third through their 2-0 win over Deportivo La Coruna on Friday.
Since thrashing then-leader Real Madrid 4-0, Diego Simeone's side has just one win in five rounds.League leader Barcelona can increase their six-point advantage over Atletico later at Eibar.
Atletico host Bayer Leverkusen on Tuesday, needing to overturn a 1-0 loss in the second leg of their Champions League round-of-16 tie.Gonzalez did not return to the match after Miranda's blow and was substituted at halftime.
Espanyol, which remained in eighth, said that Gonzalez was taken to hospital for "head trauma" where the midfielder would undergo tests. Also later, Athletic Bilbao visit Celta Vigo while Rayo Vallecano hosts Granada.