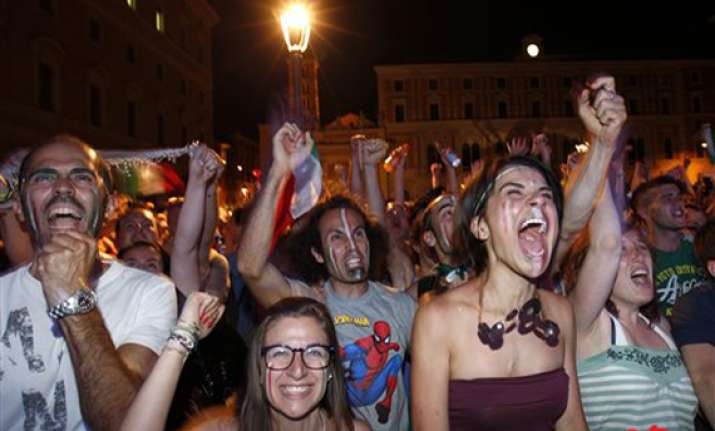 Monday, 25 June 2012:
Central Rome erupted in a sea of red, white and green on Sunday night as Italians celebrated quarter-final victory in the Euro 2012 football series, beating England in a penalty shoot-out.
Thousands of fans gathered in front of a big-screen television in the city's Piazza San Silvestro.
The Azzurri were dominant throughout the match, but their finishing failed them for 120 minutes, as they failed to turn their possession and shot advantages into goals in a 0-0 draw.
 Gianluigi Buffon was the hero in the shootout with a great save on Ashley Cole.
A large number of supporters spent hours before the match in the square, drinking beer and singing songs as they waited in the sunshine.
Italy fans were glued to the screen during the match in a long agony. The first half was eventful, with both teams generating clear chances.
Mario Balotelli and Steven Gerrard safely scored their penalty kicks but then Riccardo Montolivo gave England a gift by missing his shot wide right of Hart.
Wayne Rooney powered his shot into the back of the net, then Andrea Pirlo did much the same.
England's third taker, Ashley Young, cracked his shot against the crossbar. Antonion Nocerino made his spot kick, putting the pressure on Ashley Cole, whose shot was safely scooped up by the Italian keeper.
It gave Aleesandro Diamanti the opportunity to score the winner.
Diamanti scored the decisive penalty kick to give Italy a 4-2 shootout win over England and a spot in the European Championship semifinals.
The square erupted enthusiastically, people with flags and trumpets invaded the streets of central Rome to celebrate and cheer the victory.
They meet Germany in the semi-finals in Warsaw on Thursday.