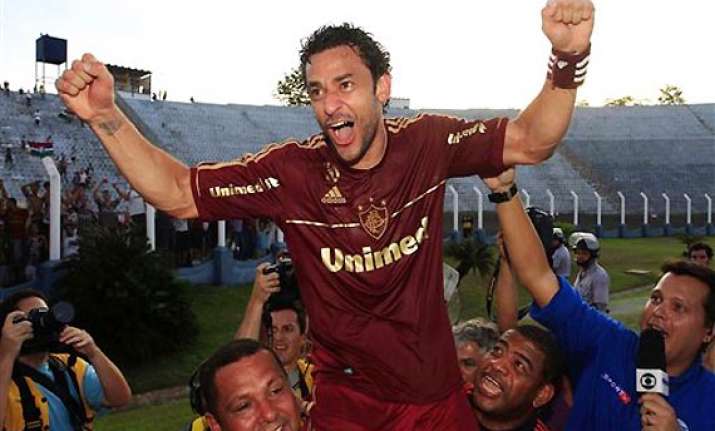 Sao Paulo, Nov 12: Fluminense won its second Brazilian title in three years by beating Palmeiras 3-2 after a pair of goals by league-leading scorer Fred on Sunday.
The striker scored an 88th-minute winner to give Fluminense the victory and its fourth national title, adding to triumphs in 2010, 1984 and 1970.
Ronaldinho's Atletico Mineiro could have kept Fluminense from celebrating on Sunday but it only managed a 1-1 draw at Vasco da Gama.
The title was clinched with three rounds left, and Fluminense has a chance to break the record of points by a champion after the league began being played with 20 teams in 38 rounds in 2006. Sao Paulo reached 78 points then, and Fluminense currently has 76.
"We fought hard from the start and everyone made a lot of sacrifices for this," Fred said. "It's great to see this group winning this title after giving all we had from the first match. This is well-deserved, there is no doubt about it."
Fluminense lifted the trophy after 22 wins, 10 draws and only three losses -- to Gremio, Atletico Mineiro and already relegated Atletico Goianiense.
"There is not a lot people who can criticize our team after a campaign like this," said Fluminense coach Abel Braga, who won his first Brazilian league title.
The Fluminense squad also includes former Chelsea playmaker Deco, Brazil midfielder Thiago Neves, Colombia striker Edwin Valencia, former Real Betis forward Rafael Sobis and former reserve Liverpool goalkeeper Diego Cavalieri.
Atletico was seeking its first championship since 1971, and Ronaldinho was looking for its first ever Brazilian league title.  
The team dropped to third place in the standings after Gremio came from behind to defeat Sao Paulo 2-1 thanks to a late winner by Bolivia striker Marcelo Moreno, securing Vanderlei Luxemburgo's team in the Copa Libertadores next season.
The loss to Fluminense left eight-time champion Palmeiras closer to its second demotion in 10 years.  
It will have to erase a seven-point deficit to the first team out of relegation zone.
Palmeiras overcame a two-goal deficit in the second half on Sunday, but Fred sealed Fluminense's victory with his 19th goal after a shot from near the penalty spot following a cross from midfielder Jean. Fred has three goals more than Sao Paulo's Luis Fabiano.
"Everybody needs to be congratulated, this is the most united group that I've ever played with," said the 29-year-old striker, who played for Brazil at the 2006 World Cup.
Fred opened the scoring in Presidente Prudente with a goal in first-half injury time.  
Palmeiras goalkeeper Bruno couldn't hold on to a close-range shot by Fluminense forward Wellington Nem, and Fred took advantage of the rebound to drive the ball into the net.
Fred, who had struck the post with a header just a few minutes earlier, also started the play that gave Fluminense its second goal in the 54th, hitting the cross that Palmeiras defender Mauricio Ramos directed into his own net while trying to clear the ball inside the area.
Argentina striker Hernan Barcos pulled Palmeiras closer in the 61st -- scoring his 14th league goal and 28th of the season -- and midfielder Patrick Vieira equalized in the 65th. But Fred's goal in a late breakaway ended the team's chances for a comeback.
The result is expected to further increase pressure on Palmeiras' players and club directors, who during the week received serious threats from some of the team's fan groups.
With Fluminense's victory, Atletico Mineiro's only chance to keep its title hopes alive was to beat Vasco da Gama, which was coming off six straight losses.
Ronaldinho converted a 27th-minutex penalty kick after a controversial foul from defender Douglas on Argentine midfielder Damian Escudero, but Vasco da Gama equalized at its Sao Januario Stadium in Rio de Janeiro with striker's Alecsandro shot from close range in the 56th.
Atletico played a man down from the 41st after midfielder Serginho was sent off with a second yellow card. Vasco da Gama lost Douglas with a second yellow in the 83rd.
Ronaldinho was seeking his first Brazilian league title after spending a decade in Europe. He returned to Brazilian football in the beginning of 2011 and transferred from Flamengo to Atletico earlier this year.
"Unfortunately the title is out of reach," Ronaldinho said. "All we can do now is focus on finishing well."
Only the top two teams will automatically guarantee a spot in the group stage of the Copa Libertadores next season.  
The third- and fourth-place clubs will have to play in the preliminary stages.
Gremio moved past Atletico in the 20-team standings after Moreno's 85th-minute winner at the Olimpico Stadium in Porto Alegre.  
Sao Paulo goalkeeper Rogerio Ceni had converted a 44th-minute penalty kick to open the scoring, and striker Andres Lima equalized for Gremio with a shot from the top of the area in the 61st.
On Saturday, Botafogo -- without injured Dutch midfielder Clarence Seedorf -- routed Portuguesa 3-0 at the Engenhao stadium in Rio, moving to within five points of fourth-place Sao Paulo.
Also Saturday, defending champion Corinthians, focused on the Club World Cup in December, routed Coritiba 5-1 at the Pacaembu Stadium.
Figueirense became the second team to be relegated after a 1-1 home draw against Sport, which remains in relegation zone three points from safety. The bottom four clubs will be demoted.
Bahia the first team out of the relegation zone, lost 3-1 to Cruzeiro in Belo Horizonte in a match in which Argentine striker Alejandro Martinuccio scored two goals.