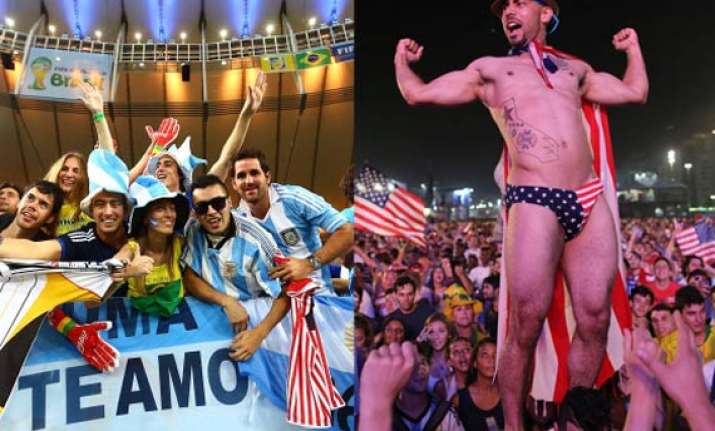 SAO PAULO: With "I believe that we will win!" American soccer fans finally have a World Cup chant that doesn't just involve shouting their country's name.
In terms of creativity, though, it's a notch below Argentina's elaborate sing-alongs or even the boisterous chants of the English.   
All players can testify to the goose bump-inducing effect of thousands of fans joining together for a synchronized chant.   
While most fans simply spell out the name of their country, from Chile's "Chi-chi-chi Le-le-le" to Germany's "Deutschland, Deutschland," some have developed more creative chants that celebrate their own teams while poking fun at their opponents.   
The trick is to be cheeky without being offensive; national team chants are usually less vulgar than those sung by fans of club teams around the world.   
Here's a look at five prominent chants from supporters of World Cup teams in Brazil: 
I AM BRAZILIAN
Besides their deafening rendition of the national anthem, Brazilian fans haven't really used their home-ground advantage to out-sing the opposing fans. One exception is when they join together to sing "I am Brazilian, with a lot of pride and a lot of love." The song was written 65 years ago by a Brazilian high school teacher for a match between his students and ones from Germany. But the chant has recently fallen into disgrace by fans who judge its lyrics outdated and lacking the rhythmic verve for which Brazilian music is known. At this World Cup, some determined fans handed out cheat sheets ahead of games containing lyrics to proposed alternatives. So far none have caught on.