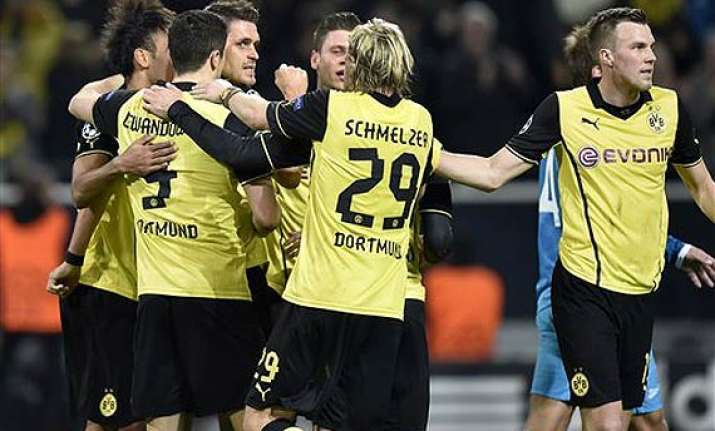 Berlin:
German football side Dortmund advanced into the quarterfinals despite a 1-2 loss to Zenit Saint Petersburg at Signal Iduna Park in the last 17 of UEFA Champions League football.
With Wednesday night's win, Juergen Klopp's men entered the Champions League quarterfinals for the second straight time after 16 years, reports Xinhua.
Zenit carved out a 2-1 win but Dortmund went through thanks to their 4-2 away win and won 5-4 on aggregate.
Dortmund created the first chance against active visitors from Russia as Pierre Emerick Aubameyang squandered a goal scoring opportunity from five metres following a cross by Marcel Schmelzer.
However, it was the visitors who dictated the game against passive hosts. Consequently, Zenit punished Dortmund by courtesy of Hulk, whose unstoppable left footer from 25 metres overcame Roman Weidenfeller into the top left corner at the 16th minute. It was the fourth goal for Hulk this Champions League season.
The early opener played into Zenit's hands although they still had plenty work to turn around. Dortmund were under pressure but managed, somewhat out of the blue, to restore parity as Sebastian Kehl's header found the back of the net after a pin-point cross by Schmelzer into the box at the 37th minute. The equaliser was Kehl's first ever goal in Champions League after 30 appearances.
Dortmund's equaliser meant that Zenit would need another three goals to progress into the next round. Thus both sides staged a distracted second half since Dortmund tried to gain control of the game while Zenit failed to create threatening opportunities.
But, despite Dortmund's equalizer, Zenit kept it bowling as joker Jose Rodon headed home a cross by Domenico Crisito to reward his side with the 2-1 lead at the 73rd minute.
Nonetheless, Dortmund ran the clock down to progress with a 5-4 victory on aggregate, eliminating Zenit from Champions League.