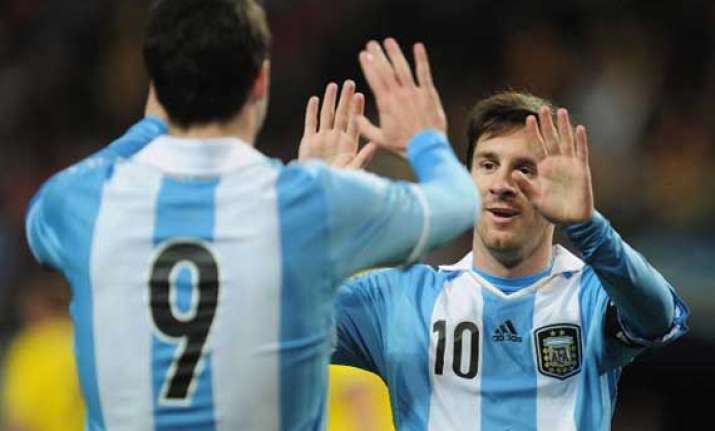 Buenos Aires: Former Argentine soccer players who played in several World Cups believed that Argentina's national team will reach the final in Brazil seeking its third title.
These former players during an interivew to Xinhua, agreed that Barcelona star Lionel Messi "will be in wonderful shape" for Argentina when the World Cup begins.
Former defender Jose Luis Brown, 57, who scored the first goal in the match where Argentina defeated Germany 3-2 in Mexico 1986, said that "undoubtedly" the team led by Alejandro Sabella "will go well" in the World Cup.
"I have great faith in the team," said Brown who lives in Ranchos, a city located in Buenos Aires province, adding that besides Argentina, other teams likely to win the 2014 World Cup include Brazil, Germany and Spain.
On the other hand, Roberto Perfumo, 71, who played at England 1966, said "I see the (Argentine) team in the final, because it is better than others and it has Messi, the best player in the world."
Perfumo regretted the absence of Juventus forward Carlos Tevez, who was not called up by Sabella and expressed his concern for goalkeeper Sergio Romero, who is currently not playing in France's Monaco "and it is a mistake to call a goalkeeper who has not been playing."
Former defender Julio Olarticoechea, 55, who played with the runner-up team in Italy 1990, said "Argentina has to be finalist because it has the power, most of all it has a strong offensive" including Messi, Gonzalo Higuain and Sergio "Kun" Aguero.
Olarticoechea, former player of local teams Racing Club, River Plate and Boca Juniors, said "winning the first match is key, because this will make the team confident."
Argentina has won two world championships, Argentina 1978 and Mexico 1986. The South American team is drawn in Group F to play Bosnia on June 15 in Rio de Janeiro, Iran on June 21 in Belo Horizonte and Nigeria on June 25 in Porto Alegre.