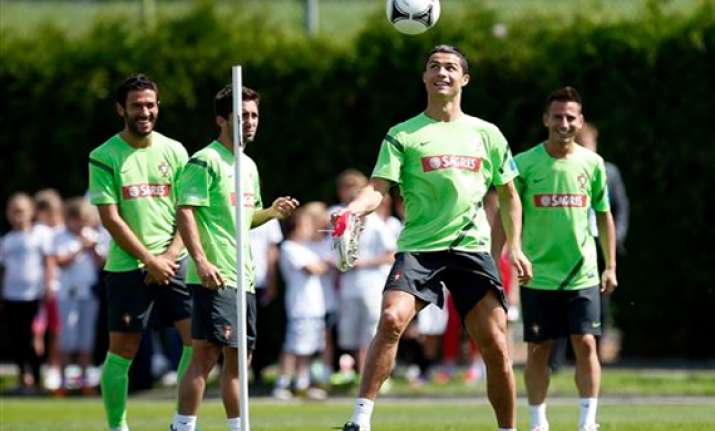 Poland, Jun 23:
  Portugal lumbered through the first five months of 2012 looking like a team that was planning only a short stay at the European Championship.
The talented Portuguese were winless in three warmup matches and then lost 1-0 to Germany in their Euro 2012 opener.
But after netting just one goal in four matches, Portugal finally found its scoring touch in a 3-2 win over Denmark.
It only got better from there, with the previously misfiring Cristiano Ronaldo finding the net three times in two matches to put Portugal into the semifinals.
With the Real Madrid star on the kind of form that has made him one of the world's best players at club level, Portugal's chances of extending its run at Euro 2012 -- and perhaps even winning the country's first major tournament—are suddenly looking better.
This team isn't considered Portugal's most talented of recent years—that honor goes to the Luis Figo-led sides that lost in the semifinals of Euro 2000 and the final of the 2004 edition.
But coach Paulo Bento does have quality talent to call on—Real Madrid defenders Pepe and Fabio Coentrao, along with Chelsea's Raul Meireles and Manchester United's Nani in midfield.
And that's not even mentioning the sublime skills of Ronaldo.
It's that sort of top-class talent that brought out around 1,000 fans for the team's open training session in the western Polish town of Opalenica on Saturday.
Serenaded by chants of "Ronaldo, Ronaldo" from the crowd, the Real Madrid forward and others signed autographs after a light practice session.
Bento's side next faces either France or Spain, and the Portuguese are under no illusions of how tough a task beating either of those sides will be.
"France, they have young squad, a very talented one," Portugal defender Ricardo Costa said. "They play direct football, fast football. They also have a lot of creativity, and they are a difficult opponent for us if we are to meet them."
Beating defending European and world champion Spain, which knocked out Portugal in the quarterfinals of the 2010 World Cup, will be no easier.
"Spain—they are a very powerful team. They have the basis of Barcelona and their style of play with a lot of passes and ball possession," Costa said.
"Currently they're playing without a striker, and some say they are struggling a little bit with their tactics. I hope they keep on struggling."
Bento, who took over in September 2010 after Portugal earned only one point from its first two qualifiers, said he has no preferred opponent for Wednesday's semifinal in Donetsk, Ukraine.
"We've got no preferences in the semifinals of a big competition like this, as the teams are good teams, with different characteristics, very good players, and are very organized," he said.
With Bento's team picking up steam as the tournament goes along, nobody can be looking forward to the challenge of having to face Portugal either.