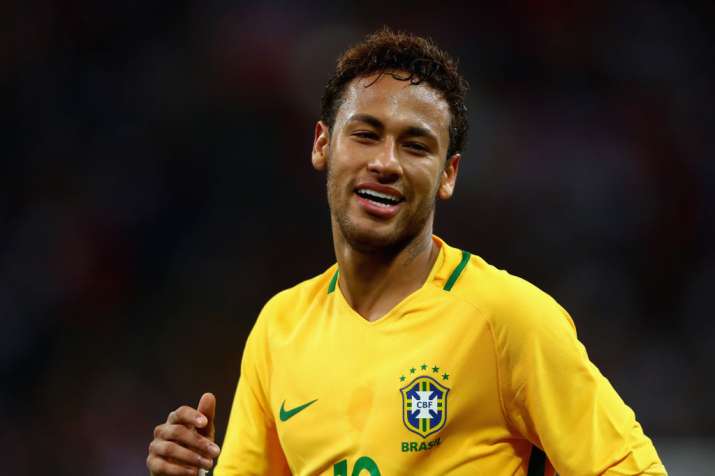 A recovering Neymar was confirmed and injured leader Dani Alves was replaced by Danilo and Fagner in a Brazil World Cup squad of few surprises on Monday. The only surprises were among the likely reserves for the tournament in Russia, with the inclusion of Shakhtar Donetsk midfielder Fred and winger Taison.
Neymar has been recovering from right foot surgery in March, and Brazil Football Confederation doctors believe he will be fit to train next week in Teresopolis, where preparations will begin, and play on June 3 in a friendly against Croatia in Liverpool.
Brazil doctor Rodrigo Lasmar said at a news conference in Rio de Janeiro he examined Neymar on the weekend and the results were positive. "This is the final stage of his recovery, he will be able to go to training sessions soon, and will play the friendlies," Lasmar said.
Coach Tite said Neymar was one of the top three players in the world but insisted his team didn't depend on him alone. "We will be much stronger with Neymar doing well, but for him to do well the rest of the team has to be well, too," he said.
All but one of Tite's starting lineup in World Cup qualifiers was confirmed in the squad: Alisson; Miranda, Marquinhos and Marcelo; Casemiro, Paulinho, Renato Augusto and Philippe Coutinho; Neymar and Gabriel Jesus.
Defender Alves, a veteran of two World Cups, sprained his right ACL last week in the French Cup final and was replaced in the 23-man Brazil squad by Manchester City's Danilo and Corinthians' Fagner.
Tite also summoned goalkeepers Ederson (Manchester City) and Cassio (Corinthians); defenders Thiago Silva, (Paris Saint-Germain) Pedro Geromel (Gremio) and Filipe Luis (Atletico Madrid); midfielders Fernandinho (Man City) and Willian (Chelsea); and strikers Roberto Firmino (Liverpool) and Douglas Costa (Juventus).
The coach said several positions in his starting lineup were open, including up front.
"At first, Gabriel Jesus is our starter. But Roberto Firmino will fight for that position in top form," Tite said. "The challenge is open on the right back, but Danilo has some advantage now because he has performed well recently."
The inclusion of Taison, the coach admitted, suggested Coutinho could be taking a role in central midfield and leaving his spot for Willian. Tite said he needs "a pacemaker" in the team, which he has not received from Beijing Guoan's Renato Augusto.
"Coutinho can play in the middle and in the flanks, he is versatile," Tite said. "Sometimes preparation gives you elements that you didn't have, and force you to change your mind."
Tite said Brazil was one of the favourites for the title but refused to name other candidates. Brazil starts its World Cup campaign against Switzerland on June 17, followed by Costa Rica and Serbia in Group E.