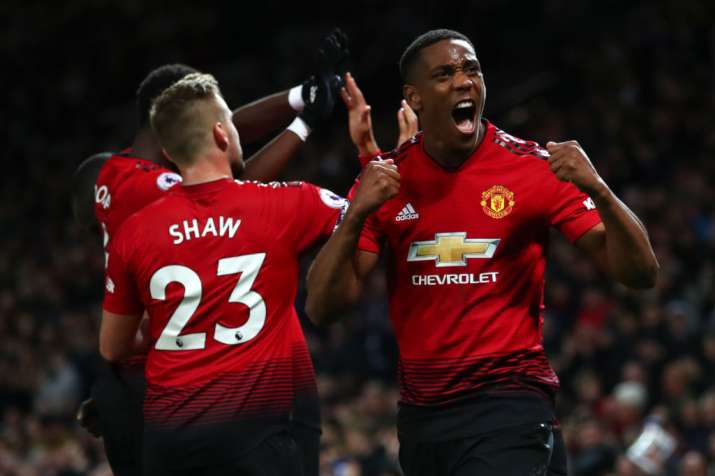 With his job on the line and the fans turned against him, Manchester United delivered just when Jose Mourinho needed it the most. 
Till the 70th minute, Old Trafford was as silent as a graveyard as they were 0-2 down, but when the coach brought on Sanchez, in a click, United's tactics changed from parking the bus to go out with all guns blazing with Juan Mata, Anthony Martial and Alexis Sanchez scoring to help United win 3-2. 
Three goals in the last 20 minutes by Mata, Martial and Sanchez earned United its first Premier League win since the opening round, as it rallied from conceding two goals in the first 10 minutes.
Newcastle, winless in seven previous league outings, could scarcely believe its luck early on in Manchester. Wing back Kenedy, a former player of Mourinho's during his second spell at Chelsea, sprinted through the middle of the defence to open the scoring in the 7th minute.
Within three minutes, United's sleepy defence allowed Yoshinori Muto to turn easily in the penalty area and beat goalkeeper David de Gea with a low shot to make it 0-2.
The under-fire manager still managed to lash out at detractors after the 3-2 victory over Newcastle on Saturday, claiming he would even be blamed for the weather and the progress of Brexit negotiations.
"Marcus Rashford was sad on the pitch, Scott McTominay was scared on the pitch," Mourinho said of the way two of his young players performed in the first half. "Even older players commit mistakes that are not normal.
"At halftime we had a good conversation. We didn't promise that we would win the match. We promised we would give absolutely everything without any fear, without any pressure, just the pressure of giving everything, and of course they gave everything. We fought so much."
United's manager has been under mounting speculation he'll be fired because of a string of poor results and for frequent verbal attacks on his own players, but he came out fighting after the team earned its first win in five matches in all competitions.
"It happened that we started nervous, the team, in my opinion, didn't cope well with the pressure of the man-hunting," Mourinho said.
"I am 55 years old. It is the first time I see man-hunting. I can cope with it. I can live with it. Some of the boys, in spite of them not being the man that is hunted, they are not coping well with it.
"This is new, it makes me not just a better manager but an even better person. I understand things in the human nature nowadays and in the industry where I work. I used to love it, I still love it, but it is different.
"There is too much wickedness in something that should be beautiful. I cope with it with some sadness. I am mature, I am a big boy, and I will deal with it."
Newcastle, without a league win, took complete control with early goals from Brazilian wing-back Kenedy and Yoshinori Muto.
Mourinho reacted by bringing on Spain midfielder Juan Mata for center half Eric Bailly after 19 minutes, but the boos still rung around Old Trafford at the interval.
United was a different team in the second half, and it came as no surprise when Mata curled in a free kick in the 70th minute.
Martial equalized five minutes later with a fierce low drive following an exchange of passes with Paul Pogba.
Substitute Sanchez then sent the crowd wild with delight when he headed in the winner in the 90th.