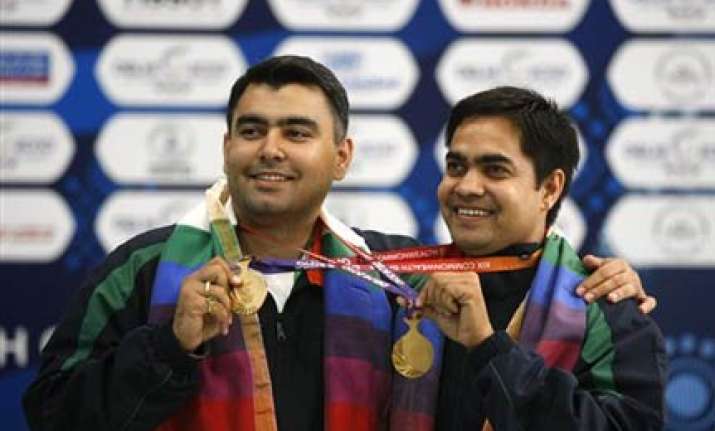 New Delhi, Oct 8: Women grapplers Alka Tomar and Anita grabbed gold medals to steal some of the limelight away from the all-conquering shooters as India bagged 12 medals, including six gold, on the fifth day of competitions in the Commonwealth Games today.
 Freestyle exponents Tomar and Anita fought their way in superb fashion to claim the 59 and 67 kg category honours respectively while the all-conquering shooters scooped up 3 gold and women recurve archers followed suit with one.
The collection of six gold medals boosted the total haul to 20 and also kept the country, who reaped three silver and three bronze medals during the day, glued to the second spot behind front runners Australia in what turned out to be India's most fruitful day in the Games so far.
The day began with shooting star Gagan Narang claiming his third gold medal, with partner Imran Hasan Khan by winning the men's 50m rifle 3-position pairs event with Imran Hasan Khan and pistol shooter Vijay Kumar claimed the 25m rapid fire individual gold.
Late in the day Omkar Singh clinched the 10m air postol individual title, the tenth gold garnered by India from the Dr Karni Singh range, after women archers and grapplers got into the gold-winning act.
The women's recurve team of Dola Banerjee, Bombayala Devi and Deepika Kumari opened the gold medal account at the archery range before women wrestlers Tomar and Anita helped keep India ahead of the fast-catching England with a double gold strike.
While Australia are looking unstoppable at the top of the medals chart with an impressive haul of 46-23-25, India were trailing far behind in second place with 20-14-12.
 After conceding the third spot briefly, hot pursuers England have fought back to stand immediately behind the hosts with 17-34-35 and Canada were further adrift in fourth spot with 13-5-17.
The race for finishing No. 2 in the Games has narrowed down to a three-horse race between India, England and Canada.
India were also just two behind their second-best tally of gold in the Games history, 22 four years ago at Melbourne.
The haul is also ten short of equalling their best of 30 at Manchester in 2002 when each class of weightlifting awarded three gold medals, a practice that has been discontinued since then.
Seasoned trap shooting pair Manavjit Singh Sandhu and Mansher Singh got a silver in pairs trap event, pistol expert Vijay Kumar stood second in the 25m Rapid Fire event, and grappler Babita Kumari won another silver in the women's 51kg category.
Bronze standards were attained by rifle shooter Gurpreet Singh, in the 25m individual competition, and the men's archery trio of Rahul Banerjee, Jayanta Talukdar and Tarundeep Rai in the recurve competition. Kavita Raut won the women's 10,000 m run, becoming India's first woman to win an individual track medal.
Rifle shooting ace Gagan Narang began India's gold quest by snapping up his third gold medal, and second in pairs, by winning the men's pairs 50m rifle 3-position event with Imran Hasan.
Narang, who had won the men's 10m air rifle pairs and individual gold medals going into today's competition, also set two Games records - a combined total of 2325 out of which his own contribution of 1167 was also a new championship mark.
The pair's shooting gold was the country's 16th after the trio of women archers fetched the country the first of the day.
Alka Tomar and youngster Anita won gold medals in their respective 59 kg and 67 kg freestyle categories to add to the maiden gold won by Geeta yesterday.
While Alka outclassed Athens Olympic silver and Beijing Games bronze medallist Tonya Verbeek of Canada,Anita beat Megan Budyens of Canada winning the first two rounds on points. Anita won 4-0.
India got another medal courtesy Babita Kumari who lost her 51kg freestyle bout against Ifeoma Christi Nwoye of Nigeria by 4-6 margin. India thus finished with six medals, 3 gold, two silver and a bronze medal.
"Definitely, it s the most memorable victory for me. From today, the Nav Ratri has started and the Almighty was with me. She is a seasoned fighter and I knew it wasn t going to be easy," said the Meerut girl, who has won a bronze at the World Championship and the Doha Asian Games.
For Haryana polic constable Anita, the second girl from Bhiwani after Geeta to win gold, it was the strategy plotted by her coach.
"Having fought against her in the World Championship, my coach told me that my opponent usually retreats before attacking. I was told that moment she takes a few steps back, I should attack. It paid off," she said after her triumph.
The trio of women archers, forming the recurve team, defeated England 207-206 in a nail-biting final at the Yamuna Sport Complex to provide the country their first gold from the bow-and-arrow range.
The troika showed nerves of steel in crunch situations with double Olympian Dola and Deepika coming up with perfect 10s when the situation demanded.  
The women prevailed over Malaysia 213-185 to set the tone this morning before edging out the English trio in the final.
 Their men's counterparts, however, disappointed by not living up to their top ranking and finished with only a bronze in the recurve team event.
  Banerjee, Rai and Talukdar were stunned by their Australian rivals 216-211 in the semi finals but managed to edge out England 207-206 in a tension-packed bronze medal tie.
 In tennis, the country's best singles hopes - Somdev Devvarman, the men's top seed, and women's no. 2 ranked player Sania Mirza - entered the finals with semi final victories over Australian rivals.
 Somdev demolished third seed Matthew Ebden 6-3 6-1 while Sania recovered after losing the opening set to oust sixth seed Olivia Rogowska 1-6 6-4 6-4.
But men's doubles title favourites Leander Paes and Mahesh Bhupathi made a shock semi final exit along with women's doubles pair of Nirupama Sanjeev and Poojashree Venkatesh. Somdev and Rohan Bopanna also crashed out in the semis.
The women's hockey team kept their medal hopes alive by trouncing lowly Trinidad and Tobago 7-0 in a Pool A match, captain Surinder Kaur's four-goal strike being the highlight.
 In boxing, world number one Vijender Singh (75kg) won his bout against Kenyan Dick Ombaka in short shrift to enter the quarterfinals along with Asian silver-medallist Jai Bhagwan (60kg) and Dilbag Singh
 The Olympic and world bronze medallist, watched by Congress MP Rahul Gandhi and Olympic silver-medallist shooter Rajyavardhan Rathore, pummelled Ombaka into submission to make the last eight where he will take on Namibia's Elias Nashivela.
"I knew it would be a sell-out turnout for me and when I walked in, it was quite intimidating to see so many people. Mr Rahul Gandhi was there in the audience, so it was obviously very special," said Vijender.
Earlier, Asian silver medallist Jai Bhagwan (60kg) outclassed Tanzania's Nasser Mafuru 11-2 in the pre quarters.
Other Indians who have made the last eight are Amandeep Singh (49kg), Suranjoy Singh (52kg) and Manoj Kumar, who won their pre-quarterfinal bouts yesterday. PTI