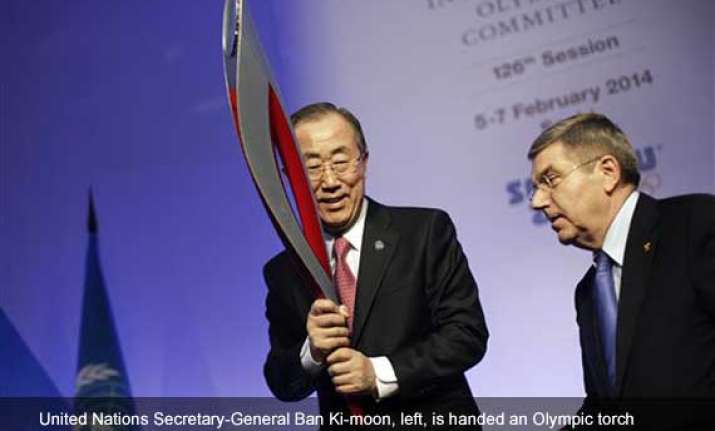 Sochi, Russia: U.N. Secretary-General Ban Ki-moon condemned attacks and discrimination against homosexuals on Thursday, touching on the gay rights issue in Russia that has overshadowed preparations for the Sochi Olympics.
In a speech to the IOC a day before the opening of the games, Ban also reiterated his call for warring parties around the world to lay down their arms during the Olympics.   
Ban said many professional athletes, gay and straight, are speaking out against prejudice and discrimination.   
"We must all raise our voices against attacks on lesbian, gay, bisexual, transgender or intersex people," he said. "We must oppose the arrests, imprisonments and discriminatory restrictions they face."   
Ban's remarks came at a time when activists and protesters have stepped up their campaign against Russia's law restricting gay rights activities.   
Human Rights Watch posted a video this week on YouTube of gay people in Russia being bullied, chased and beaten, compiled from footage the group said was uploaded by perpetrators.   
"Hatred of any kind must have no place in the 21st century," Ban said.   
The U.N. chief noted that Principle 6 of the Olympic Charter enshrines the IOC's opposition to any form of discrimination.   
"The Olympics show the power of sport to bring together individuals regardless of age, race, class, religion, ability, sex, sexual orientation or gender identity," Ban said.