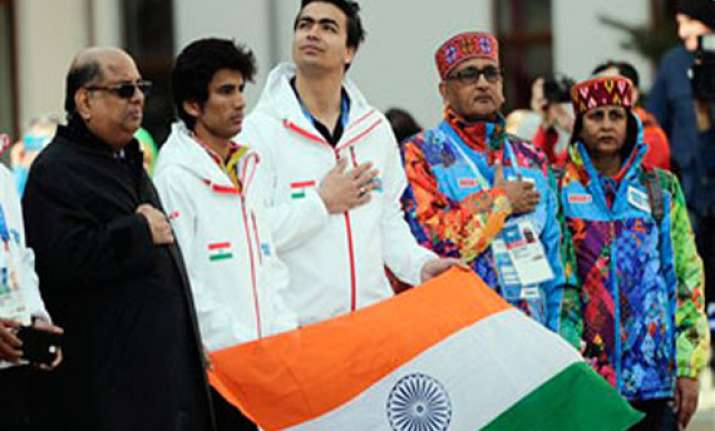 Sochi (Russia): The Indian flag was on Sunday unfurled at the Winter Olympics Village here at a special ceremony, five days after the International Olympic Committee revoked a 14-month suspension on the country.
The ceremony, which lasted around 45 minutes and organised at the International Plaza of the Mountain Village, was attended by the three Indian athletes taking part in the event, Indian Olympic Association President N Ramachandran and IOC officials nine days into the Sochi Games.
Luger Shiva Keshavan, alpine skier Himanshu Thakur and cross country skier Nadeem Iqbal and their three coaches stood silent as the tri-colour was hoisted with the national anthem being played at the background. The ceremony started at 1200 hrs local time (1330 IST).
"There were around 10 IOC officials and IOA president in the ceremony, besides the six of us - three athletes and three coaches and a few people from other countries. We have arranged our ceremonial dresses on which were written India," Winter Games Federation of India Secretary Roshan Lal Thakur, one of the coaches, told PTI.
"We were not allowed to fly the tri-colour and wear any dress on which is written India when the Games began due to IOA's suspension but after the suspension was lifted, we can now proudly fly our national flag and wear dresses with India written on them," he said.
Asked about the ceremony, Thakur said, "Six of us along with the IOA President stood in a line. First the IOC flag was raised and then the tri-colour with the national anthem sung at the background."
The raising of the tri-colour symbolically marked the end of India's suspension, a week after the IOA conducted its elections on the diktat of the IOC.
IOA's new president Ramachandran said, "I am thrilled and delighted. I don't look into the past. I only look for the future."