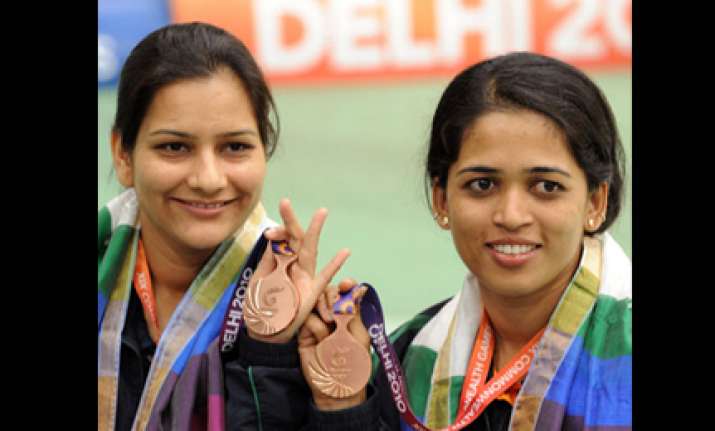 New Delhi, Oct 11: Women rifle shooters Tejaswini Sawant and Meena Kumari grabbed the bronze in the women's 50 metres rifle prone event after logging one point less than the gold and silver medalists in the Commonwealth Games which was rocked by its first dope scandal today.
 World champion Tejaswini and her partner combined forces to aggregate 1168 points and stood one behind Scotland pair Jen McIntosh-Kay Copland as well as England duo Michelle Smith-Sharon Lee.
The tie between the two British teams for the top spot was separated by the count-back method with the Scots hitting the bull's eye more times than the English girls.
Tejaswini, India's first world champion in shooting on the distaff side, shot 583 while Meena accumulated 585 to help India gain their 25th medal from the Dr Karni Singh range. The shooters' gold tally stood at 13.
However, the highly rated boxing squad was in for some disappointment with Amandeep Singh (49kg), Asian champion Jai Bhagwan (60kg) and Dilbag Singh (69kg) losing their semi final bouts and settling for the bronze.
India are now depending on four other pugilists to reach the gold medal by winning their semi final bouts later in the day round and the list includes their best hope and Olympic bronze winner Vijender Singh.
The other three are Suranjoy Singh, Manoj Kumar (lt. welter), and Paramjeet Samota (super heavy).
But the big story of the morning session was the positive dope test, the first of the Delhi Games, returned by Nigerian woman sprinter and 100m gold medallist Osayemi Oludamola.
 The African athlete tested positive for banned stimulant methylhexaneamine and was placed under provisional suspension pending a test of her 'B' sample later in the day.
 CGF President Michael Fennell announced in the morning press conference that it was the first positive dope case to have come out here and that under anti-doping rules of the Games she had been handed a provisional suspension.
 "Under anti-doping procedures she has been notified and she has requested for a 'B' sample testing. The 'B'sample testing will be done today and her hearing will also be held today," Fennell said.
Asked whether the gold medal has been taken back from the Nigerian, the CGF chief said, "At the moment no decision has been taken about the medal. She has been put under provisional suspension."
 The gold Oludamola won came in dramatic circumstances when Australian Sally Pearson was stripped of her medal in the women's 100m sprint for a false start.
 The Nigerian had crossed the finish line in second place behind the Aussie woman and was later awarded the gold when Pearson was punished for jumping the gun.
The Indian tally of 29-22-23, including the four bronze won today, kept the host nation glued firmly in second spot behind leaders Australia (61-39-37) while England (26-46-33) and Canada )22-23-25) were in third and fourth positions.
India have aimed to end the Games on October 14 in second place. PTI