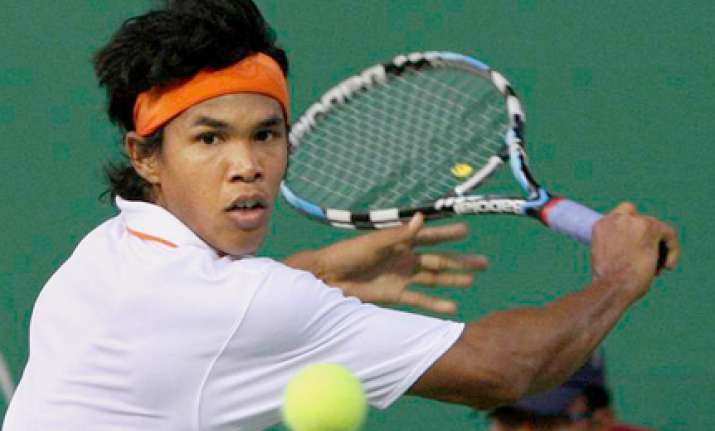 Somdev Devvarman yet again holds the key as the Indian Davis Cup team, sans Leander Paes, take on hosts South Africa in Johannesburg from Friday to stake claim of a berth in the World Group after 11 years.
The duo of Leander Paes and Mahesh Bhupathi have always given India an edge in the doubles rubber but the last minute pullout of Paes has made things slightly tricky for India.
Now Rohan Bopanna is likely to do double duty. He has to pair with Bhupathi against Jeff Coetzee and Wesley Moodie, a pair capable of giving India a run for their money.
Then Bopanna, who is coming back from a knee injury, will have to play two singles as well which means he will be in action on all three days of the tie.
The singles in a Davis Cup tie is five-set affair and it will be interesting to see how Bopanna copes with pressure.
It will be surprising if skipper SP Misra let Yuki Bhambri make his debut in the Davis Cup.
Somdev is thus the man for India if it has to make the World Group. India last played in that grade in 1998.
Somdev did it for India against Chinese Taipei in the Asia/Oceania tie and after a confidence boosting performance at the US Open he will be high in spirits.
Going by his form, the 133rd ranked Somdev will definitely start favourite in both the singles.
Though Somdev has not played against South African number one player Rik De Voest, who is ranked 189th, the Indian recently beat Izak Van der Merwe 290, the other home team singles player, during the Aptos Challenger event.
Of late, Bopanna has enjoyed more success in doubles but can fancy his chances against Merwe in singles.
The worrying thing for India is the high altitude Ellis Park indoor stadium. The courts will be faster than the usual hard courts and that gives advantage to the hosts.
India have come this close to World Group for the second successive time after they lost to Romania in away tie last year.
India are yet to beat South Africa in a Davis Cup tie as the hosts enjoy a 2-0 head-head-head record. The last meeting between the two teams was in 1994 when South Africa edged past India 3-2 in Jaipur.
The hosts are coming to this tie with an astonishing 10 consecutive wins although they reached the World Group Play-offs for the first time in 10 years.
Like India they too have been out of the World Group since 1998.