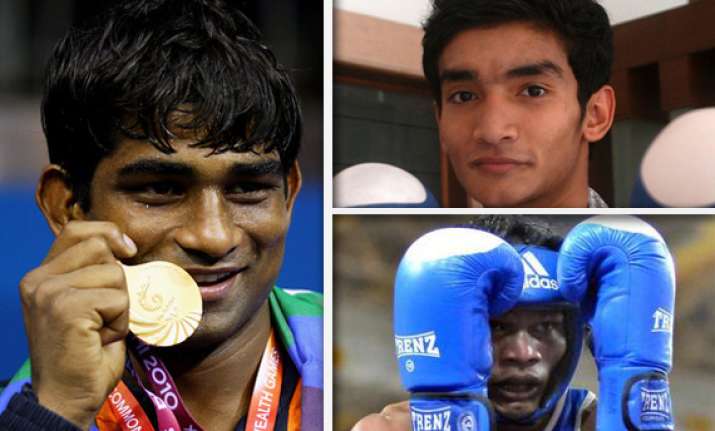 Chennai, Dec 9: Commonwealth Games gold medallist Paramjeet Samota, Diwakar Prasad and Shiva Thapa advanced to the finals of the 58th Senior Men's National Championship after registering contrasting wins in the penultimate round of their respective categories here today.

However, it was all over for 2010 South Asian boxing champion Chhote Lal Yadav as he suffered a 8-10 defeat against Maniknandan V of Tamil Nadu in the bantam weight division.

Super heavy weight boxer Samota of Railways pulverized Fateh Singh of Jharkhand in an exhibition of raw power and took less than six minutes to get rid of him in the semifinals.

The Commonwealth Champion was leading 26-3 in the second round when the referee stopped the contest and awarded victory to him. Samota will be up against the inexperienced Satish Kumar of the services in the finals.

Shiva Thapa of Assam also cemented his place in the final with a 3-2 win over V Durga Rao of Karnataka in the semifinal of the bantam weight category.

Olympian and World Series boxer for the Venkys Mumbai Fighters, Diwakar also cruised into the finals of the light weight class with an easy victory over Kulwinder of Kerela.

The Railways boxer will lock horns with Vijay Kumar of Haryana, who had to fight it out with Vikas Khatri of SSCB in hard-fought contest.

Chhote Lal was up two points after the first six minutes of play but Maniknandan, a gold medal winner at the 2010 Junior National Championship, made a stunning recover, scoring seven points in the final round.

In the fly weight division, silver medallist at the recently-concluded Tammer Tournament in Finland, Madan Lal of IBF team had no problems edging past Sandeep Malik of Delhi.

The 20-year-old boxer from Haryana dominated the game with his precise and effective punches and advanced to the last round with an impressive score of 21-11.

Madan will now take on Sunil Kumar of the Railways in a bid to defend his title. Sunil, last year's gold medal winner in the light fly weight division, jumped a weight class and is now competing as a fly weight boxer.

He defeated Govind Singh of Uttarakhand in a lop-sided contest (13-6) to set up the clash.

2009 Asian Championship silver medallist Nanao Singh also advanced to the finals after getting a walk over from his opponent Bahadur Singh Rana of Uttarakhand as he was medically unfit. The 20-year-old boxer will face Pankaj Saini of Punjab, who drubbed L Amarjeet Singh of Manipur, in the finals.