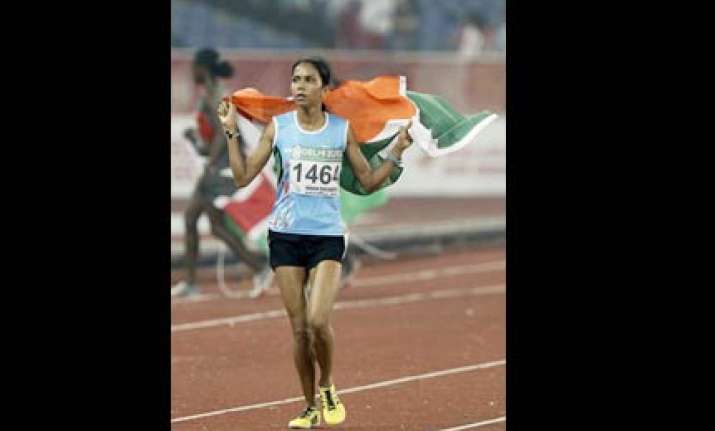 New Delhi, Oct 8 : Kavita Raut today created history by becoming the first Indian woman to win an individual medal in track events of the Commonwealth Games as she bagged the bronze in 10,000m race on the third day of the competitions here today.
Raut clocked 33:05.28s to finish third in front of 20,000-odd crowd, who cheered with a deafening sound all throughout her run.
 Before the Games, not many gave Raut much chance to win a medal but she opened India's account in track and field events of the Delhi Games.
Raut's bronze-winning effort though was below her personal and season's best of 32:41.31s.
Before Raut's feat, the women's 4X400m relay team had won a silver fours years ago in Melbourne, where long jumper Anju Bobby George and discus thrower Seema Antil had bagged a silver and a bronze respectively in field events.
Incidentally, Raut's bronze is only the 10th medal for India in athletics in the Commonwealth Games history.
The gold was won by Grace Kwamboka Momanti of Kenya, who clocked 32:34.11s while her compatriot Doris Changeywo bagged the silver with a timing of 32:36.97s.
Momanti had finished fourth in the 2009 Berlin World Championships but the field here was depleted as several top Kenyans, including season's leader Lineth Chepkurui and world champion Linet Chepkwemoi Masai, not taking part.
Two other Indians in the fray, national record holder Preeja Sreedharan and Lalita Babar finished a disappointing seventh and eighth respectively.
Preeja ran 33:43.91s, much below her national record of 32:04.41s, while Babar clocked 35:03.49s in the field of eight.
 Raut and Preeja were running together in front of the pack at the halfway mark before the two Kenyans took the lead and gradually left behind the other competitors.
 By 8000m it was clear that the two Kenyans would finish first and second as they, running together, have taken a huge lead over the others. It was a question of who between Raut and Charlottee Purdue of England would win the bronze.
But with two laps to go, Raut began to surge ahead and in the last lap she left behind the Englishwoman, who clocked 33:13.02s, and the Indian crossed the finishing line with her hands raised in front of the big crowd.
 Raut ran a lap of honour with the tri-colour wrapped around her body before embracing compatriot Preeja.
"I am so happy that I have done my country proud. I have worked hard with the aim that I can do it (win a medal)," she said after the race.
"It was a tough race. Though I could not do my best I have won a medal for the country," said the 25-year-old from Maharashtra.
 National coach Bahadur Singh said he was expecting Raut to win a medal.
 "Raut and Preeja are also 32 minute runners and so I was expecting a medal," he said.
 Raut's coach Nikolai Snesarev from Belarus said his ward's bronze was an enormous achievement for the country, considering that competition in the Commonwealth Games is always world-class.
 "It was an enormous achievement as competition in the Commonwealth Games is very tough with athletes from middle distance powerhouses like Kenya, Uganda are there. I have always felt that India can do well in middle distance race," he added.
 Before Raut's historic win, Maliakkal Prajusha gave hopes of winning a medal in women's triple jump, only to finish fourth though she created a new national record.
The 20,000-odd crowd at the Jawaharlal Nehru Stadium waited in bated breath with the expectation that 23-year-old Prajusha could land India's first medal after she surged to fourth spot in her fourth jump with 13.72m, which is four centimeters more than the other Indian in the fray, Mayookha Johny's earlier national record of 13.68m set recently.
Prajusha, whose personal best was 13.54m, could not improve the distance in her next three efforts and finished fourth with 13.72m while Johny ended seventh with 13.58m.
Trecia Smith of Jamaica defended her gold she won in Melbourne with a season's best jump of 14.19m while Alexander Ayanna (13.91m) of Trinidad and Tobago bagged  silver. Charles Tabia of Canada won the bronze after jumping 13.84m.
Prajusha later said that she thought she was in for a medal after jumping to fourth but failed to improve her performance in the last two jumps.
"I was thinking I could go for a medal as I know I could jump 14m but it did not happen. I am happy that I had created a new national record. Now my focus is on the Asian Games," she said, adding that she will also compete in the long jump.
Johny, on the other hand, said she injured her right ankle in the first of the six jumps itself and so she could not give her best.
 "I injured my right ankle in the first jump so I could not give my best. My target was to get a medal as I can do in the range of 13.75 to 14.20m," she said.
 "I am going to participate in the long jump as right leg is not the leading leg," Johny added.
In other events, Indians fell by the wayside. Bharat Inder Singh came up with a personal best in decathlon by collecting 7225 to finish eighth while another Indian, P J Vinod, ended eighth with 7130 points in the event won by Jamie Adjetey Nelson of Canada with 8070 points.
In men's hammer throw final, Chandrodaya Narayan Singh finished ninth with an effort of 64.20m while compatriot Kamalpreet Singh was 11th in a field of 13 with 61.00m.
In women's 400m final, Mandeep Kaur clocked 52.37secs to finish sixth. Botswana's Amantle Montsho won the gold in a Games record timing of 50.10secs.
Montsho bettered Jamaican Angela Richard's earlier record of 50.17secs in the 1998 edition in Kuala Lumpur.
In men's long jump, India's Ankit Sharma and Mahan Singh made it to the finals after finishing fifth and sixth in the qualifying round with efforts of 7.50m and 7.49m respectively.
Harikrishnan failed to make it to the finals after finishing seventh in the qualifying round with an effort of 7.40m.
In men's 800m, Francis Sagayaraj qualified for semifinals after finishing second in heats with 1:50.12. Manjit also qualified for the finals with an effort of 1:51.22.
It was a clean sweep by England in men's 110m hurdles with European champion Andy Turner winning the gold in 13.38secs.
 Another Games record was set when Olympic champion Nancy Jebet Langat of Kenya won gold in women's 1,500m, in 4:05.26, bettering another Kenyan Jackline Maranga's 4:05.27 effort in the Kuala Lumpur edition.
 This was the fourth Games record in the track and field events till today besides the world record in para sport men's shot put.
 Langat's gold-winning effort was though well below her personal and season's best of 4:00.13.
Nikki Hamblin of New Zealand bagged silver in 4:05.97 while Scotland's Stephanie Twell won the bronze in 4:06.15. PTI