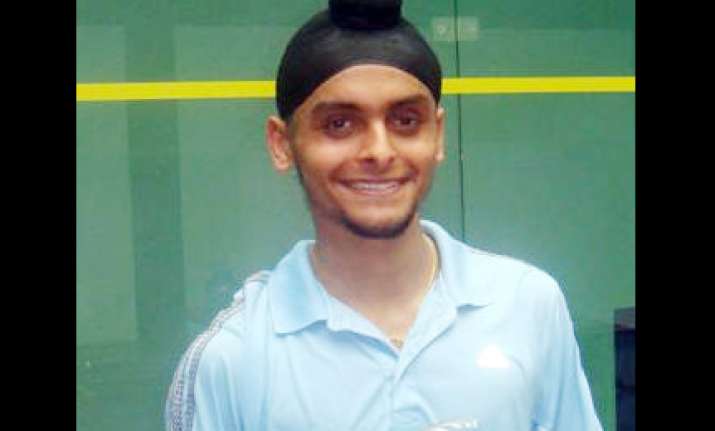 Riding on his noteworthy performance in Denmark World Championship last week, Indian wild card, Harinder Pal Singh Sandhu lost the match from jaws of victory to highly ranked third seeded Mathieu Castagnet, France, 7-11, 8-11, 11-7, 11-7, 10-12 in the first round main draw event of the PSA Challenger No:4 in Chennai. 
Indias unseeded Anwesha Reddy put paid to the aspirations of seventh seeded Lucie Fialova of Czech Republic with a hard earned victory at 11-9, 5-11, 11-6, 8-11,11-5 in 40 minutes. While all the other seeds took their appointed places in the last eight of WISPA event, the top eight progressed to the quarterfinals in PSA Challenger. 
Winning the first two games with Elan, Sandhu started committing lot of unforced errors in giving away negative points in the third and fourth games.  In the decider, Sandhu was trailing 1-4 and 5-7 but seemed to have touched his rhythm in leveling the score at 7-all and then the rivals were going neck to neck. In fact Sandhu saved one match point and then messed up his chances by once hitting the tip of the tin and then drove on the tin to give away the match. 
Gaurav Nandrajog and Naresh Kumar, the qualifiers bowed out of the championship losing to seventh seeded Mazen Gamal of Egypt and Pakistani Shamsul Islam Khan (8th seed), respectively.   
In womens section, the five players including Joshna Chinappa,Dipika Pallikal and Anwesha Reddy from India were cynosure of all eyes and Anaka one of the looser amongst them was at her best despite going down to an experienced Elise Ng of Hong Kong, who is ranked four and has a WISPA rating of 46. 
Chinappa and Dipika did not come across much resistance from their respective rivals, while Anwesha had to sweat it out against seventh seeded Lucie Fialova (CZE) before winning at  11-9, 5-11, 11-6, 8-11, 11-5 (40 mins).
The other loser Aparajitha Balamurugan, a qualifier, was looking fished out of water against third seeded Orla Noom of the Netherlands, who is WISPA ranked 43. Noom short work of the Indian in winning the match 11-1, 11-6, 11-2 in (14 mins). 
Both Anaka, who last month recorded a WISPA title here being the youngest girl to ever win, and Aparajitha are playing their second WISPA event in their careers. 
15-year-old Anaka showed brilliant resilience and her court coverage was methodical but effective.  Anaka led 2-1 game wise and was leading 8-5 in the fourth.  Perhaps, playing against a rival who is double her age, who had by then recovered well had Anaka on the receiving end.   The Indian could not any more succeed trying to push Elise on her weak back hand. 
In the fourth game, Elise shifted gears and slowed down the pace and then could win mostly on rally points.  However, it was not at all easy for Elise as the rivals were slugging it out and worked harder than being flashy.  Elise also cashed in when Anaka became impatient and most often muffed with her finishing shots. PTI