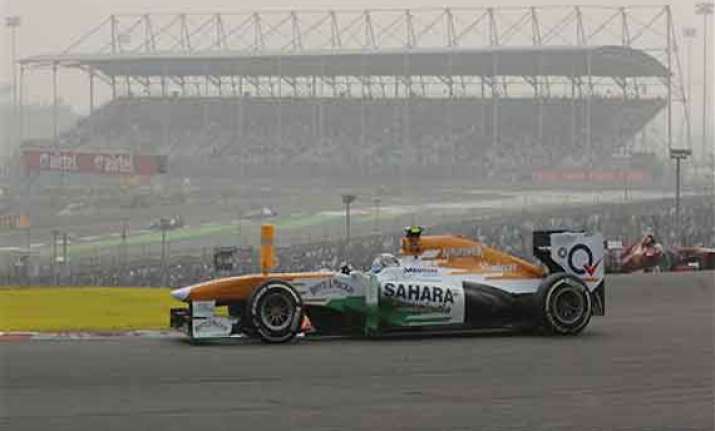 Greater Noida: Force India pulled off a bold strategy to score their first double points finish at their home race at the Indian Grand Prix here Sunday with both its drivers finishing in the top ten.
Paul di Resta and Adrian Sutil finished eighth and ninth, respectively, at the Buddh International Circuit (BIC) giving their team their first double since the Formula 1 British Grand Prix in June.
The six points here give a cushion to the Silverstone squad which aims to hold on to its sixth place in the team standings. Force India are on 68 points with three races remaining while seventh-placed Sauber remains on 45 after drawing a blank.
"We took an aggressive strategy by pitting at the end of the first lap to change from softs to medium tyres - which was always the plan. After that we effectively split the race in two and I pitted again for my second set of medium tyres on lap 30," said di Resta.
"The other positive is that we've steadily improved the car over the last few weeks and I'm feeling more comfortable, so I think we can be optimistic of performing at a similar level in Abu Dhabi next week."
Sutil did a one-stopper and was the last driver to make his first pit stop on lap 41 of the 60 lap race.
"My one-stop strategy was the riskier approach and it was only during the race that we decided to go ahead with it. The medium tyres, which I started on, were performing really well and I realised that doing a one-stop race was possible," said the German.
"We thought that the soft tyres would only last around five laps, so I made sure I really looked after them, and in the end I managed just under twenty laps. After some difficult races recently, we showed everybody what we can achieve with some great teamwork," he added.