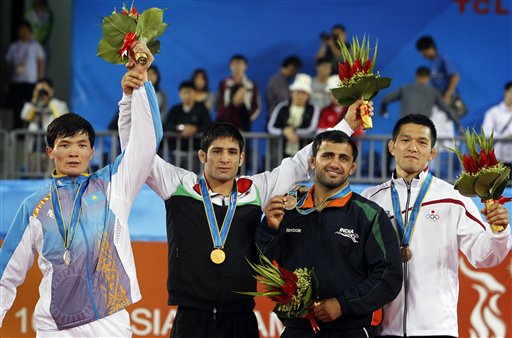 Guangzhou, Nov 21:   Ending India's three-decade medal drought in the Asian Games Greco-Roman Wrestling, Ravinder Singh and Sunil Rana bagged bronze medals in the 60kg and 66kg categories respectively on the opening day of competitions here today.
Ravinder, 30, won third place in his weight category by winning the repechage bout. He proved his superiority over Indonesia's Muhammad Aliansyah by winning 3-1.
Earlier, Ravinder, a bronze medallist in the Asian championship in Delhi earlier this year, won his opening bout 3-1 against Kazakhstan's Nurbak Tengizbayev but lost 0-3 to formidable Korean rival Jihyun Jung in the semi-final.
It was a big improvement from his 8th-place finish in the 2006 Asian Games in Doha.
Sunil Rana, who also stood third in the continental championship in Delhi, took a bronze in the 66kg class.
He too had lost his semi-final clash against Iran's Saeid Abdvali 0-3, before winning the Repechage bout against Sutep Oomchompoo of Thailand with a comprehensive 5-0 verdict.
Another Indian grappler Rajender Kumar was eliminated after losing his 55kg first round bout 1-3 against China's Li Shuji 1-3, but Kumar did not get a second chance as the Chinese wrestler lost in round two.
Indian coach Hargobind Singh was very happy with the opening day's show by the team's grapplers.
"It is the first time for India to win two medals in men's Greco Roman. It is the first time he (Rana) is taking part in the Asian Games. I am happy he could get another bronze medal for the Indian team," he said.
Rajender, however, blamed the different type of food available for him to eat here and the weather for his defeat. PTI