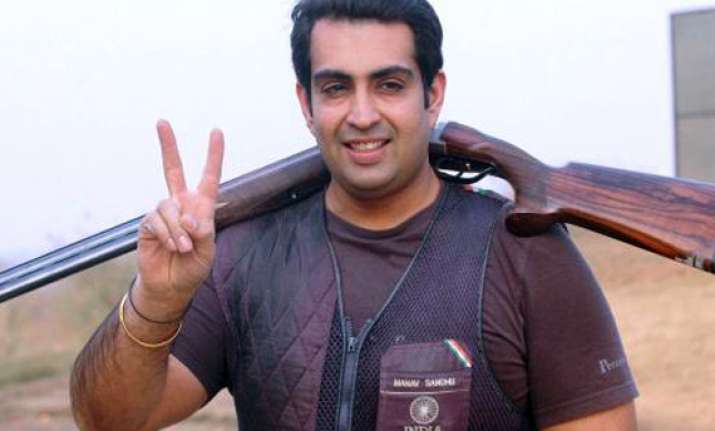 Doha, Jan 21: Ace marksman Manavjit Singh Sandhu and Imran Hassan Khan today grabbed an Olympic quota each on the final day of the Asian Shooting Championships, ending India's long wait for London Games berth in the competition here.

Manavjit dished out a vintage performance in testing conditions to win gold as well as an Olympic quota for India in trap event while Khan gave the country a London Games berth in the 50m rifle 3 positions.

Khan finished fifth but as all the other shooters above him had already bagged Olympic quotas, the qualifying spot for the London Olympics came his way.

The Indians also won the team gold and silver in the 50m rifle 3 positions and trap event respectively.

Sanjeev Rajput, who has already booked a ticket to London, won gold in the in the 50m rifle 3 positions.

Gagan Narang, who has also qualified for the London Games, battled his way to bronze in the same event to bring cheers to the Indians, who had to wait for 10 days for an Olympic quota in the competition which began on January 11.

Manavjit's triumph made it a memorable outing for India at the Asian Championships with seven gold in the senior category. His gold medal made it a haul of 11 quotas for India, the highest number ever since quota places were introduced.

2006 trap world champion Manavjit banked on his experience to come through a tough qualifying round and did not relinquish the overnight lead today.

Starting the day with a score of 49/50, Manavjit shot rounds of 25, 24 and 24 to qualify for the final in first place. So dominant was his performance that the next shooter who qualified for the final was five points behind him at 117.

Despite the cushion, Manavjit started shakily in the final, dropping four of the first seven targets. The final in trap is a test of skill as the shooters have only one shot to hit the target unlike the qualification where they can use both cartridges.