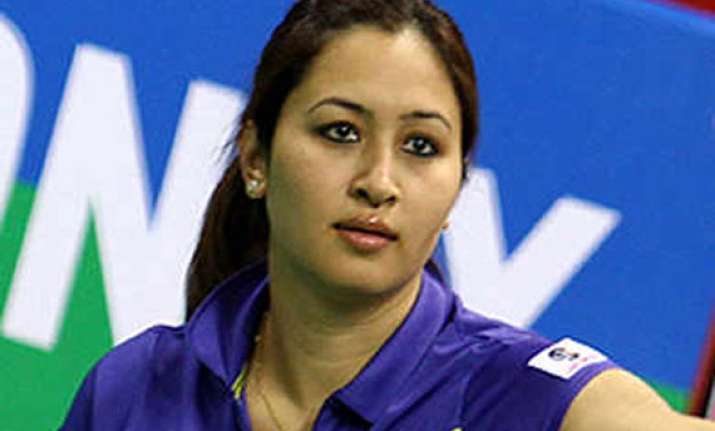 Hyderabad: India's sensational and top doubles shuttler Jwala Gutta is contemplating  a legal action against Badminton Association of India (BAI) after BAI  threatened to ban her for life over a row during the Indian Badminton League (IBL).
Jwala's coach Syed Mohammad Arif has advised her to file a defamation suit against BAI it went public without issuing her a ban notice.
The top shuttler has not yet reacted to recommendation of the BAI's disciplinary committee for a life ban on her for trying to stop players of her franchise Krrish Delhi Smashers from playing a match against Bangla Beats.
During Indian Badminton League she had  vehemently objected to Bangla Beats replacing their injured Hong Kong player Hu Yun with Jan O Jorgensen of Denmark.
However Jwala is maintaining silence at the advise of Arif.
"I asked her not to react till the federation issues her a notice. She can then move to court. I, in fact, advised her to file a defamation case," Arif, former chief national coach said.
"This is cruelest joke on badminton and on a player of Jwala's calibre," he said, adding that she committed no mistake and hence there is no question of apology.
BAI president Akhilesh Das Gupta has said that if Jwala tenders an unconditional apology, her case may be reconsidered.
Arif said BAI had repeatedly insulted Jwala - the player who brought laurels to the country by winning bronze medal at World Championship and gold medal at the Commonwealth Games.
The coach said Jwala went by the direction of sponsors of her team by not fielding the team to protest last-minute replacement y Bangla Beats. Arif said she sent a four-page reply to show-cause notice, giving a detailed explanation.
"Instead of issuing her a notice to take action, the federation has gone to press, which is a cruel joke," said Arif.
He believes Jwala was being "victimised" for speaking against the injustice and the arbitrary manner in which BAI functions.
He pointed out that the icon player was insulted when BAI went against their own rules to drop doubles event from IBL. Earlier, a player of lesser ranking was sold for a higher price and Jwala blasted organisers for the same.