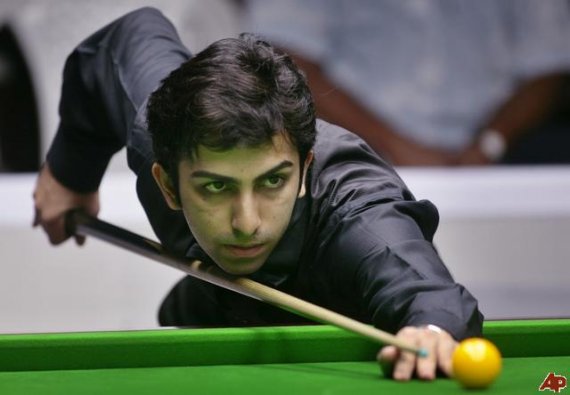 Bangalore: Pankaj Advani might have become the toast of India after winning the World Billiards title (time format), but the ace cueist's mother Kajal says it is elder brother and sports psychologist Shree's 'gyaan' that often does the trick for him.
"Whenever Pankaj calls up Shree, which he does quite often, Shree gives him Gyan (tips) and he does well," Kajal said in an exclusive interview at her residence here.
Bangalore's Golden Boy, who pocketed the short format last week, had set the green baize on fire in the longer format as well after humbling England's rising star Robert Hall 1928-893 in a one-sided contest to hand his mother, Kajal, a perfect birthday gift on October 29.
Shree never calls Pankaj in between games to allow the younger sibling stay focussed. Kajal said, "Shree never calls him (Pankaj). He says if he is comfortable, he will never call," Kajal said.
However Shree said, "When he needs he speaks to me - that's when he understands he is playing a negative game."
"I know in the middle of the match, when he is likely to lose; when he is likely to pick up," he said.
Kajal said that she doesn't speak anything about the game whenever Pankaj calls her, except for giving some encouraging words to boost his morale. "I don't speak anything about the game. What will I speak? What a mother speaks, giving some encouraging words," he said.
Pankaj is a man of steel, Shree said and does well in matches as he enjoys match pressure.
"He is better in matches. There are many players who do well during practice, but go down in matches.  He loves match pressure," he said.
Shree said he advised Pankaj to apply the strategy he had applied against Mike Russell two years ago.
"I told him during the break - if you stay on the table you will do the damage," he said.