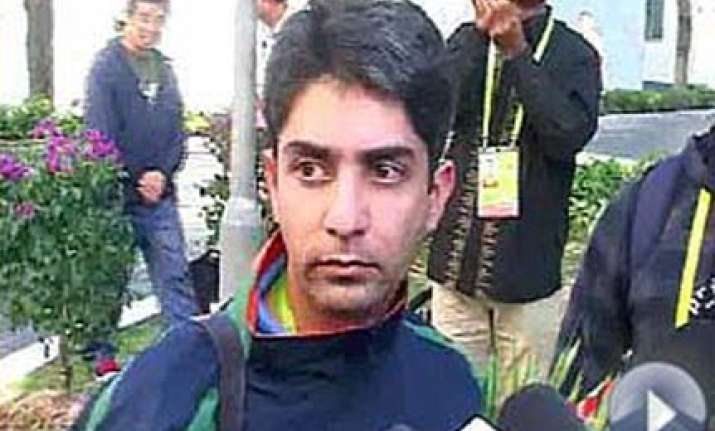 Guangzhou, Nov 13 :  India's shooting coach Stanislav Lapidus today claimed that Olympic gold medallist Abhinav Bindra was robbed of a spot in the finals of the men's 10m air rifle event due to a scoring glitch.
"He definitely scored a 9 on the 42nd shot but was given only a 7. I saw it again through the scope and the mark was a nine. I went to Abhinav and he also thought it was closer to 9 but was not sure.
"We did not protest in the team's interest as an unreasonable protest would have cut two points from the team score," said Lapidus after the incident at the Aoti Shooting Range.
"He had the team's interest in his mind when he took the decision. And later that affected his concentration (during the shoot off for the final three qualifying places for the medal round). Anybody would be affected. He lost his focus," said Lapidus after Bindra was totally off target in the shoot-off in which he finished fifth and last, with teammate Sanjeev Rajput getting the fourth spot.
"It was Abhinav's call but no one can give guarantee (of the protest being upheld)," he said.
In this event, India's Gagan Narang claimed a silver behind China's Liu Qinan.
Lapidus was also critical of the range and said it was a very difficult one.
"The back lighting was not good for the shooters at all," he said.
Chief coach Sunny Thomas concurred with Lapidus and said it was a 9 definitely.
"But it's risky to protest and if it is turned down you would lose two points. No one will know till the event is completed whether it was right or wrong (score)," he said.
Abhinav Bindra also said that he did not want to risk lodging the protest as the team could have lost the silver medal if it had not been upheld.
Thomas once again reiterated that it was not easy to maintain peak form for five months at a stretch as the Indian shooters have been doing since the World Championship in Munich.
"It's not possible, the performance is bound to dip," he declared.
Government observer and former shot gun specialist Moraad Ali Khan was very happy that India have started the campaign with two silver medals on the first day of the Games which has not happened in recent memory but agreed with Thomas's view about the need to take a break.
"It's a fine start which has not happened before. Suma did very well, doing a 396 was very good. But Tejeswini Sawant and Kavita (Yadav) should have done better. 390 is not good. But the shooters have been doing well and I am confident," he added.
Veteran markswoman Suma Shirur shot one point better than her performance in last month's Delhi Commonwealth Games but still failed to qualify for the finals of the women's 10m air rifle event, while her teammates Tejaswini Sawant and Kavita Yadav finished way off the mark.
World record holder Suma shot 596 that included 33 perfect tens, with sequences of 98, 99, 100 and 99 and was edged out of the qualification ranks. She had shot 595 while winning the Team bronze with Kavita in the CWG.
Kavita, who finished 28th with 390 (96 98 98 98) had 27 perfect tens while Tejaswini, who is the world champion in 50m prone, also tallied the same with 24 Perfect tens to finish a distant 33rd from 54 shooters. PTI