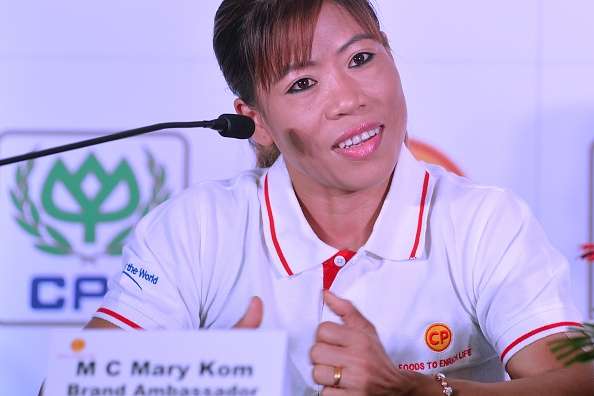 Olympic bronze medallist and five-time world champion M C Mary Kom today denied reports that she made disparaging remarks against fellow male boxers like Shiva Thapa and Manoj Kumar during a meeting of the national observers here.

Reacting to a report that she had sought Thapa's removal from the Target Olympic Podium (TOP) scheme and called Manoj overage, Mary Kom issued a statement to deny having made any such remarks at the meeting.
"The article states that I have termed Shiva Thapa's career as over and he would do nothing at the 2020 Tokyo Olympics. This is completely fabricated and it borders on being defamatory," Mary Kom said in her statement.
"Let me put this on record, I have never said anything like Shiva's career being over and he should be dropped from the TOP scheme," she added.
"Playing with the reputation of a hard-working boxer using falsehood is not acceptable to me."
The 23-year-old Thapa is currently preparing for the World Championships, where he won a bronze medal in 2015, on a training trip in France. He recently won a silver medal at the Asian Championships in Tashkent.
Mary Kom also denied saying that former Commonwealth Games gold-medallist Manoj Kumar was past his prime. The 30- year-old Manoj has also qualified for the World Championships to be held from September 25 in Hamburg.
"I would categorically like to state that I have never used the term "average" for Manoj Kumar as has been stated by the unnamed source quoted," she stated.
"...this kind of stories without proper verification of facts is tantamount to playing with my reputation," she added.
Manoj, on his part, reacted to the report on Twitter and said, "@MangteC I respect U and ur struggle a lot. But u should also respect our struggle. I qualified 4 #Rio in odd conditions."
"Ur words hurt us but we still respect u," he added.
Mary Kom responded to him by saying that she had issued a clarification on the matter.
Mary Kom is one of the two national observers appointed by the Sports Ministry for boxing, other being former CWG gold medallist Akhil Kumar.
Akhil did not attend the meeting due to personal reasons.