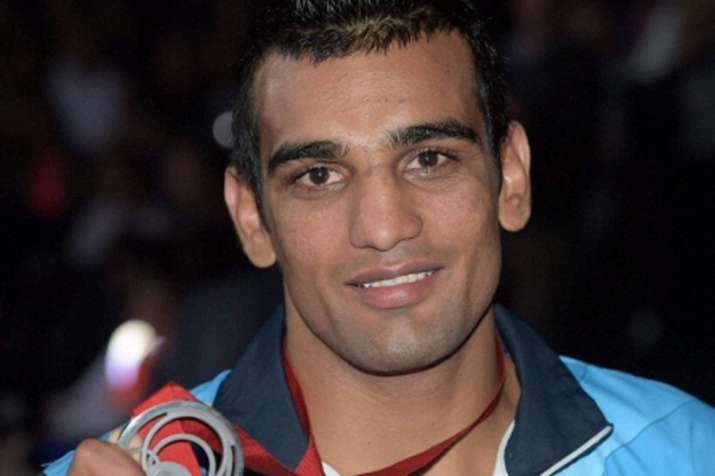 Former Commonwealth Games silver-medallist Mandeep Jangra (69kg) notched up a knockout win to enter the quarterfinals on another day of dominance by favourites in the Senior Men's National Boxing Championships on Tuesday.
Jangra, representing Haryana, knocked out All India Police's (AIP) Pawan Kumar in the second round of his pre-quarterfinal bout to enter the last-eight stage.
Commonwealth Games silver-winner and this year's Arjuna awardee Satish Kumar (+91kg), who is competing for the Services Sports Control Board (SSCB), also made the quarters after out-classing Madhya Pradesh's Monish Qureshi in the opening three minutes of his bout.
Commonwealth Games bronze-medallist Naman Tanwar (91kg) eased into the quarters by out-punching Karnataka's Nagesh. The Railways' boxer ended the contest in just the first round with his dominance.
There was no stopping the other big names either with Gold Coast CWG silver-medallist Manish Kaushik (60kg), competing for SSCB, advancing with a 5-0 win over Punjab's Vijay Kumar.
World Championships bronze-medallist Gaurav Bidhuri (56kg) also moved ahead after out-classing Puducherry's V Bharany. The bout was stopped in the second round owing to the Railways boxer's dominance.
Former Asian youth silver-medallist Ankush Dahiya (Railways Sports Promotion Board) clinched a 5-0 triumph over AIP's Syngkli Wanbuddien to move ahead in the 60kg category.
Former medallist Jasveer Singh (+91kg) was also through to the quarters with a 4-1 win over Uttar Pradesh's Harshpreet Sahrawat. Jasveer is competing for RSPB.
Another promising boxer to make the quarters was Sanjeet (SSCB) in the 91kg category.
The 20-year-old India Open gold-medallist pummelled Jammu and Kashmir's Zahid Beigh in a bout that did not go beyond the first round.