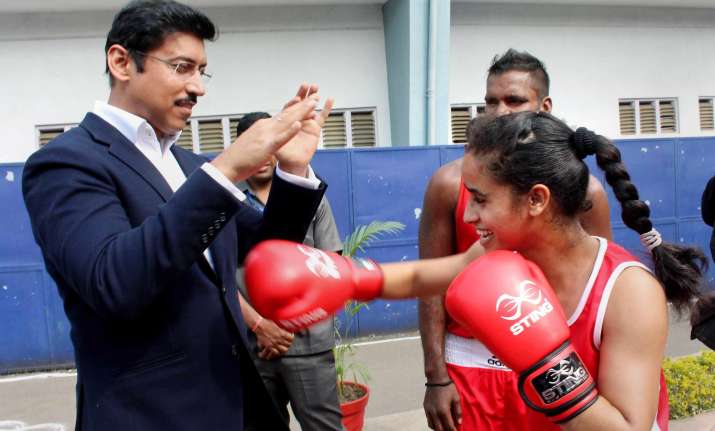 Sports Minister Rajyavardhan Singh Rathore on Tuesday said the government was in the process of finalising a National Sports Code to efficiently run sports organisations. "We are preparing the National Sports Code to bring transparency and efficiency in the sports organisations and various federations," Rathore told reporters in Bhopal. The minister was to participate in a sports award function organised by the Madhya Pradesh government. 
"It (running sports organisations) depends on the capabilities of the persons sitting at the helm of affairs. I believe that good people would come in this field," quipped Rathore, who won a silver medal in shooting in 2004 Athens Olympics. 
He also said the government's focus was to promote sports among the school children. 
"Our focus is to ensure that sports can reach to every child. We have started the 'Khelo India' programme to achieve this target. Under various schemes so far, the funds have been spent on infrastructure. This (infrastructure) ultimately proved white elephants," he said, adding funds would now be spent under 'Khelo India' to provide a platform to young sportspersons. 
Rathore also said his ministry has made a provision of Rs 40 Crore for the School Games, which would be telecast live. 
"We want the names of schools should also be mentioned along with states in the medal tally. We will select 1,000 sportspersons every year. These would be given a scholarship of Rs five lakh every year for a period of eight years," he added. 
Rathore said his ministry has recommended the Human Resource Development (HRD) ministry to hold three to five sports periods every week in schools. 
"The officials of sports ministry were being treated as VIP. Now this will not happen. Sportspersons and viewers are important and our focus would be around them. We will prepare the data so that the funds would reach to the grassroot coaches," he signed off.