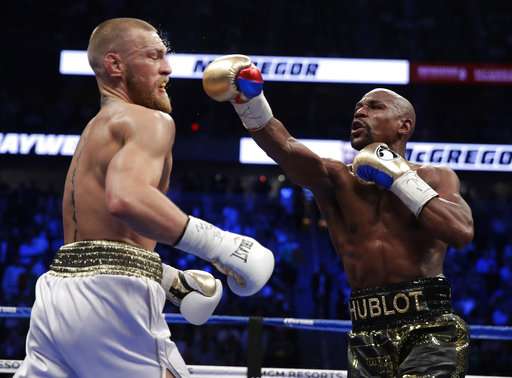 Hello and welcome to our Live coverage of the mega fight between Conor McGregor and Floyd Mayweather from Las Vegas. Stay tuned as we bring you all the latest updates. Conor McGregor has been kept pretty much under wraps ever since his fight with Floyd Mayweather Jr. was announced, emerging occasionally to trash Mayweather only to disappear again behind the closed doors of the UFC training center. It's not by accident. The biggest selling point of the spectacle that is Saturday night's 154-pound fight is the unknown. Is McGregor good enough to land a big punch on Mayweather? Did he acquire enough boxing skills in just a few short months to make what should be a lopsided fight competitive? Inquiring minds want to know, and there are enough of them to make this the most watched fight in history. Some 50 million people in the U.S. alone are expected to gather with friends and family to see it all unfold. It's a fight that really makes no sense other than millions of people want to watch it. But the economics of the fight wouldn't make any sense, either, if people saw McGregor - the UFC star who has never boxed professionally - in action and decided he just wasn't good enough to be in the ring with a fighter like Mayweather. No mystique, no 5 million buys on Showtime pay-per-view. That's why there was never any chance of McGregor having a tune up fight.
Conor McGregor vs Floyd Mayweather Live Updates from Las Vegas
10.35 IST: Floyd Mayweather - "I chose the right dance partner for my last dance... this was my final fight. Conor is a tough competitor, we gave the fans what they wanted to see. He is a lot better than I thought he was... he used different angles. But I was the better man... It was our gameplan to take our time and take him out down the stretch."
10.27 IST: Round 10: Floyd Mayweather Jr. stopped UFC champion Conor McGregor on his feet in the 10th round Saturday night, ending the boxing spectacle of the summer with a harsh dose of reality. The most unusual megafight in years went longer and was more competitive than many expected when an unbeaten, five-division world champion boxer took on a mixed martial artist making his pro boxing debut.
"He's a lot better than I thought he was." #Mayweather on #McGregor #MayweatherMcGregor pic.twitter.com/6lhKYWB4yu

— UFC (@ufc) August 27, 2017
While McGregor (0-1) had the T-Mobile Arena crowd behind his improbable quest, Mayweather (50-0) survived a rough beginning and gradually took control. He brutalized McGregor in the 10th, landing numerous shots and chasing McGregor around the ring until referee Robert Byrd saved the Irishman and stopped the fight.
10.25 IST: Mayweather beats Conor McGregor by Technical knockout (TKO) in Round 10 in the richest boxing match in history.
10.22 IST: Round 9: Floyd Mayweather Jr. has no fear of Conor McGregor's punches and he lands big combinations to the head that shake McGregor. A tired McGregor holds on trying to stay upright as Mayweather batters him around the ring. (Unofficial score: Mayweather 10-9, Total Mayweather 87-84)
10.21 IST: Round 8: Action slows some but the tone of the fight remains the same. Conor McGregor is fighting in flurries, back-pedaling as Floyd Mayweather Jr. keeps after him. (Unofficial score: Mayweather 10-9, Total Mayweather 77-75)
10.17 IST: Round 7: Floyd Mayweather Jr. is starting to have his way with Conor McGregor, chasing after him and landing punches to the head. McGregor appears to be tiring as Mayweather keeps the pressure on. (Unofficial score: Mayweather 10-9, Total Mayweather 67-66)
10.12 IST: Round 6: Floyd Mayweather steps up the pace and begins landing in volume. He batters Conor McGregor with a series of punches and lands some good lead right hands. McGregor's punches seem to lack snap. (Unofficial score: Mayweather 10-9, Total 57-57)
#Mayweather pressing forward here in round 6!!! #MayweatherMcGregor

— UFC (@ufc) August 27, 2017
10.09 IST: Round 5: Floyd Mayweather Jr. continues to pursue Conor McGregor who tries to keep him off with little flurries. But Mayweather seems to be figuring something out and lands a hard left in the final minute. (Unofficial score: Mayweather 10-9, Total McGregor 48-47)
10.05 IST: Round 4: Floyd Mayweather is pursuing Conor McGregor, who keeps him away with his jab. But Mayweather begins to connect for the first time in the fight, landing some solid head punches. (Unofficial score: Mayweather 10-9, Total McGregor 39-37)
10.01 IST: Round 3: Conor McGregor continues to use his jab and size to keep Floyd Mayweather Jr. off balance. Mayweather is searching for openings but not finding them. McGregor switches from southpaw to conventional to try and fool Mayweather. (Unofficial score: McGregor 10-9, Total 30-27)
9.58 IST: Round 2: Floyd Mayweather starting slow against McGregor. Conor McGregor is fighting a good tactical fight, using his reach to control the action. Neither fighter lands much in the round but McGregor pulls off another one as Floyd Mayweather remains tentative. McGregor 10-9, Total 20-18
9.50 IST: McGregor busier in first round 
Conor McGregor came right out to the middle of the ring to meet Mayweather and landed a good uppercut in the first round. He kept Mayweather away with pawing right jab. (Unofficial score: McGregor 10-9)
And here comes #FloydMayweather!! #MayweatherMcGregor pic.twitter.com/OgbkhBvs9h

— UFC (@ufc) August 27, 2017
9.45 IST: Conor McGregor made his ring walk with an Irish flag draped over his shoulders. He pumped his fists in the air to the crowd, which cheered loudly.
IT'S REALLY HAPPENING!!! #CONORMCGREGOR ENTERS THE RING!!!! pic.twitter.com/4FwUv1qop3

— UFC (@ufc) August 27, 2017
McGregor's handlers held aloft his UFC title belts after he got into the ring for his first pro boxing match.
Floyd Mayweather Jr., meanwhile got a bit theatrical, wearing what looks like a ski mask under an oversized hat. He was greeted with a mixture of cheers and boos.
The odds at fight time favored Mayweather by about a 5-1 margin.
9.15 IST: Gervonta Davis stopped previously unbeaten Francisco Fonseca in the top fight on the undercard of Conor McGregor's challenge of Floyd Mayweather Jr., but left the ring without his 130-pound title.
Davis missed weight by 2 pounds Friday, and was stripped of his title. He apologized to fans in the ring after the fight, which ended with a punch to the back of the head at 29 seconds of the eighth round.
Davis, a Mayweather protege, ran his record to 19-0 while Fonseca lost for the first time in 20 fights.
In another bout, Badou Jack stopped Nathan Cleverly in the fifth round of their light heavyweight title fight.
9.00 IST: ​Conor McGregor will have to wait a bit longer to challenge Floyd Mayweather Jr.
The start of the fight has been delayed while Showtime PPV consults with various TV systems around the country and tries to resolve some transmission issues.
That's according to a Showtime spokesman, who said the fight would be delayed "a little bit."
There have been reports on social media of problems with the transmission of the telecast. Fans complained UFC's Fight Pass, which was streaming the fight, has locked up or is impossible to get into.
Mayweather's fight with Manny Pacquiao in 2015 was also delayed because of heavy demand on cable and satellite systems.
8.40 IST: Conor McGregor was calm and confident in his televised pre-fight interview, telling Showtime's Jim Gray that he would "paint a beautiful picture" in his fight against heavily favored Floyd Mayweather.
McGregor was subdued in the interview, and he was still wearing a dress shirt, tie and vest, even though his hands were already wrapped about an hour before the start of the bout.
"I'm going to go out and be myself - free, spontaneous, creative - and paint a beautiful picture," he said. "I see me truly outclassing this man and putting him to sleep."
McGregor said he thought he weighed "about 170" pounds after rehydrating from Friday's weigh-in, where he was 153. Mayweather weighed in at 149 ½.
8.20 IST: Mayweather and McGregor arrive 
Conor McGregor and Floyd Mayweather Jr. have arrived at the T-Mobile Arena on the Las Vegas Strip for their much-hyped 154-pound fight.
McGregor came sporting a shorter haircut than he had in the days leading up to the fight, with his girlfriend behind him pushing their 3-month-old baby in a stroller.
Mayweather is guaranteed $100 million for his night's work, and could make double that if the pay-per-view buys are strong as expected. McGregor's guarantee with the Nevada State Athletic Commission is $30 million.
There are two more fights on the undercard before the main event begins. There will also be two national anthems, with the U.S. version sung by Demi Lovato and the Irish anthem by Imelda May.
8.10 IST: Nathan Cleverly beaten by Badou Jack
In the undercard fight, Cleverly's term as the WBA light heavyweight champion has come to an end. Badou Jack punished thrashed Cleverly with some hard punches and body shots, making him bleed heavily. The referee decided to stop the fight in the fifth round.
8.00 IST: The televised undercard is underway as the Floyd Mayweather Jr.-Conor McGregor fight draws closer.
The T-Mobile Arena is still virtually empty for what is expected to be a late-arriving crowd. Promoters had nearly 2,000 tickets still to sell on fight day at prices ranging from $2,500 to $10,000.
Irish fans filled the arena the day before for the weigh-in, when McGregor weighed 153 pounds and Mayweather 149 ½.
The fight is expected to set records on pay-per-view, with some 5 million homes buying at $99.95. The main event is expected to begin about 9 p.m. local time.
7.30 AM IST: The big money continued rolling in just before fight time at this city's sports books, with several million-dollar bets on Floyd Mayweather Jr. to beat Conor McGregor.
Bookies had faced taking a big loss because McGregor tickets outnumbered Mayweather tickets by as much as 18-1 at some books. But the big bets started coming in Thursday on Mayweather and at the William Hill chain of sports books 74 percent of the money on straight bets was on Mayweather.
There were a handful of million-dollar bets on Mayweather, with three coming in just hours before the fight. The biggest reported bet on McGregor is $100,000.
Bookmakers say they still will post a big loss should McGregor beat Mayweather, especially if he stops him early. If Mayweather wins, though, it will be a big score by the sports books.
Mayweather was minus 600 at William Hill, down from 11-1 when the fight was announced.
The fight is shaping up to be the biggest bet fight ever, breaking the mark of about $50 million set in Mayweather's win over Manny Pacquiao in 2015.