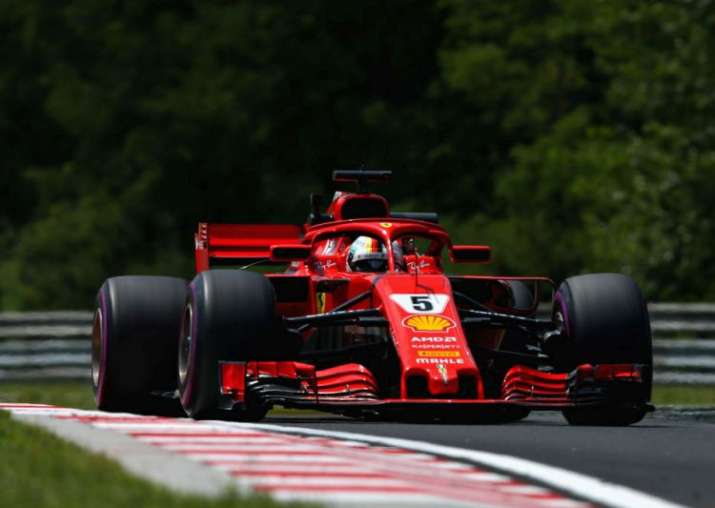 Sebastian Vettel led the second practice for the Hungarian Grand Prix as Mercedes again struggled for speed on Friday. On a day of mourning for Ferrari, following the death this week of former president Sergio Marchionne, Vettel was faster than Red Bull drivers Max Verstappen and Daniel Ricciardo.
The same three drivers led the first practice hours earlier, with Ricciardo quickest ahead of Vettel and Verstappen.
Vettel's Ferrari teammate, Kimi Raikkonen, was fourth in both sessions, and Lewis Hamilton and Mercedes teammate Valtteri Bottas twice placed fifth and sixth.
The narrow Hungaroring track is among the most difficult to overtake on in Formula One, and considered more favorable to cars with a strong downforce like Red Bull and Ferrari — which clinched a 1-2 last year when Vettel won ahead of Raikkonen.
On the evidence of these practices, it appears Mercedes has much work to do overnight to get the car competitive for qualifying on Saturday. Hamilton, who won last weekend's German GP from 14th on the grid, briefly lost control of his car in P1 and complained about his tires.
The British driver leads Vettel by 17 points after 11 of 21 races, with the four-time F1 champions winning four races each and retiring once each.
Vettel threw points away by crashing in the rain near the end of the German GP. The German driver started the race from pole position was leading it by nearly 10 seconds at the time of the crash.
Following Hungary, there is a four-week summer break.
Amid a somber mood, Ferrari's team garage and motorhome flew its flag at half-mast and team members wore black armbands in memory of Marchionne, who died on Wednesday at the age of 66. Vettel and Raikkonen also had black bands attached to their cars.
Marchionne, a hugely influential and successful automobile industry leader , died after complications from surgery in Zurich.
Mercedes head of motorsport Toto Wolf paid a personal tribute.
"We as well are very shocked by events. He was a friend and ally, a great rival and a competitor and will be dearly missed," Wolf said. "Sergio was a bigger personality than life. In the meetings and in the strategy groups, and in the negotiations with Formula One and the FIA, (he) had the most powerful voice. His shoes are impossible to fill. ... There was only one Sergio Marchionne."