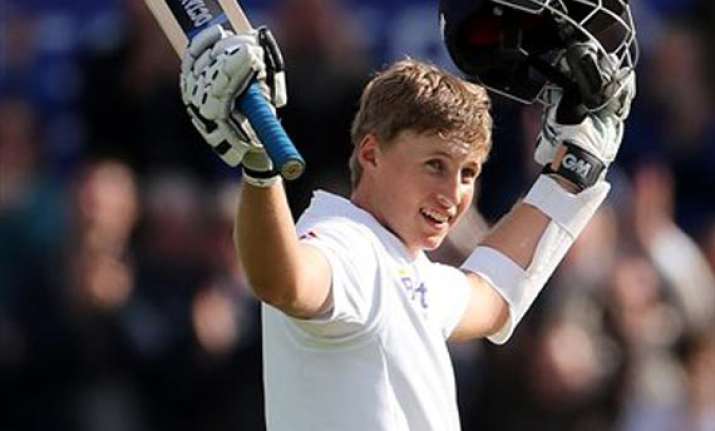 Leeds, England, May 26: Joe Root made the second test worth waiting an extra day for as he notched his maiden test century on his Headingley home turf in leading England to 337-7 against New Zealand on day two Saturday.
In scoring 104, Root exceeded the Yorkshire Cricket Club's marketing of the match as Root's Test, the 22-year-old's first at his home ground.
It was the same scenario for fellow Yorkshire batsman Jonny Bairstow, 23, but without the pre-match hype. Covering for the injured Kevin Pietersen, Bairstow made 64 and still seeks his first test century.
Their home debuts were delayed by the first-day washout on Friday, but when they came together at 146-4 half an hour before tea, they rocketed along.
Their entertaining partnership of 124 in 29 overs was at more than four an over, one-day-game pace.
In one memorable over which cost part-time spinner
Kane Williamson
19 runs, Bairstow hit a four, New Zealand conceded an overthrow, and Root finished with three straight boundaries. The second helped him eclipse his previous test-best of 73 on debut in India in December, and the third was a precocious reverse sweep.
Root spent only 14 balls in the nervous nineties, bringing up his ton off 156 balls by glancing fast bowler Doug Bracewell past slip. Before his ninth boundary reached the rugby stand, Root gave a right uppercut, yelled in joy, and danced down the wicket. He hugged Bairstow, and saluted the late-afternoon crowd, which gave a standing ovation and cheered a throaty "Root."
"I lost it a little bit but you only get to your first one once," he said.
Root, who has a face which still prompts ID requests at pubs, was congratulated by Pietersen on Twitter.
"Today is historic.. The first 9yr old to score a Test 100," Pietersen wrote.
Ten minutes later, Root's innings of impeccable footwork and timing ended to the first delivery of the new ball by
Trent Boult
. Boult added Bairstow and Stuart Broad for a duck, all three in the space of 13 balls.
But England, unchanged from the first-test win at Lord's, was in charge, and setting up a challenging first-innings total against a side it bowled out for 68 last weekend.
Matt Prior, 38 not out, and Graeme Swann, 21 not out, saw England well past 300 to stumps in a tea session extended by half an hour.
Boult, who took 3-48, said the Kiwis were disappointed with their bowling on "a pretty testing day."
"They tended to put the bad ball away a bit better than at Lord's, and it was a bit frustrating for us not to put together many maidens and dot-ball sequences," he said.
Root first came to Headingley at 10 for a Yorkshire junior trial. The following year he dreamed big as he watched his first test here, an innings loss by England to India. This week, he did his best to play down his home test debut, but he didn't hold back when he became the first Yorkshireman to score his maiden test century in his first match at Headingley, a feat missed by the likes of Geoff Boycott, Bert Sutcliffe and Len Hutton.
He'd been threatening a century against the Kiwis. He was subdued in New Zealand, where his best score in the three tests there was 45. But in England he's given the Kiwis fits. He made an England-best 71 at Lord's, and has compiled 394 runs in four innings, including 179 as captain of the England Lions.
Root's appearance at Headingley to shouts of "Yorkshire" — "You get that when you come here," he said, "it's almost like coming and playing in a different country" — was triggered by the dismissal of captain Alastair Cook for 34 in the last over before lunch.
Cook and Jonathan Trott endured the Kiwis' four-man pace attack, making 56 together after opener Nick Compton was out for 1 edging
Tim Southee
in the fourth over. But Cook and Trott were dismissed in successive balls to edges in the five minutes before lunch. Trott made 28.
Root then featured in two big stands: 79 with Ian Bell and 124 with Bairstow.
Bell's was the only wicket to fall in the middle session, for 30. He was undone by the introduction of Williamson after 47 overs of all-out pace.
Boult and the new ball ended the Root and Bairstow show. Boult's three late wickets, all caught behind by skipper Brendon McCullum, who has five in the innings, dropped England from 270-4 to 286-7. Prior and Swann made it a mere blip.