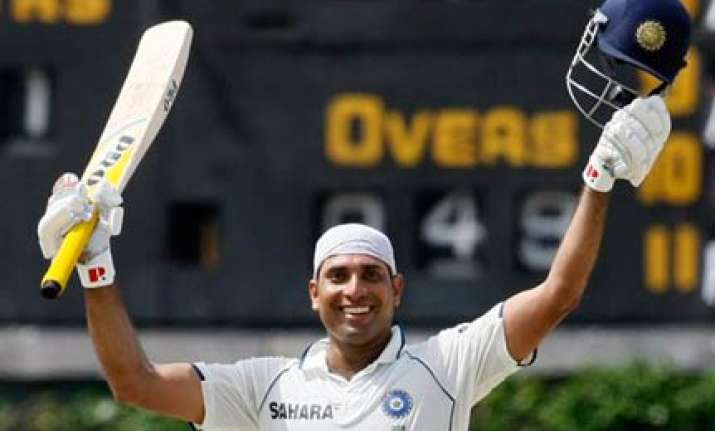 Colombo: Veteran Indian batsman V V S Laxman, who guided India to a series-levelling win over Sri Lanka in the third Test, on Saturday said he relishes orchestrating wins in difficult situations.
Laxman struck an unbeaten 103, his 16th hundred in 116 Tests, to guide India to a memorable five-wicket victory over Sri Lanka batting through the Indian run chase on a difficult fifth day pitch at P Sara Oval.
 "I am really proud of my achievement today but more importantly I have contributed to India's victory. I always wanted to bat in such conditions, to win matches for the country from difficult situations," he said when told that it was his maiden century on Sri Lankan soil.
"Gary Kirsten was telling me that it was another chance to do something for India. A lot of hard work had gone into winning the match and finally we pulled it off," a relieved Laxman said after India won by five wickets.
 The stylish batsman said it was the bowlers who brought India back into the game on the second day and fourth day before the batsmen did their job.
"It was a collective effort and after the first day and again in the Sri Lankan second innings, the bowlers brought us back. Then the batsmen chipped in. Sachin Tendulkar and I got together to win this game. We are very proud as a team," he said.
 Captain Mahendra Singh Dhoni also credited the win to team effort but emphasised on the fine show by the inexperienced bowlers.
"We came back into the match after the first day and the bowlers did really well though there was something in the pitch. There was bounce for the fast bowlers and turn for the spinners from both ends," Dhoni said.
"Then the batsmen did their job and we had the first innings lead. Even in the second Test we had the first innings lead and that showed we had the potential to win the Test though we had an inexperienced bowling attack," he added.
Sri Lankan captain Kumar Sangakkara said despite the loss today, his players would be proud of themselves for their show in the series.
We put a very good show in this Test and all through the series. We are proud of ourselves. It is great that younger players have stood up. But credit to India for the win. Sachin Tendulkar and V V S Laxman batted really well to win this Test," he said.
Sangakkara picked Suraj Randiv for special praise.
"Lasith Malinga and other bowlers did really well in the series but Randiv I think he is coming onto his own. He got all the five wickets in the Indian innings.
"It is good for the team since Muttiah Muralitharan has retired, though he cannot be compared with Murali. Had Randiv got enough support from the other end the result of the Test could have been different. But we would hold our heads high with the result (of the series)," said Sangakkara. PTI