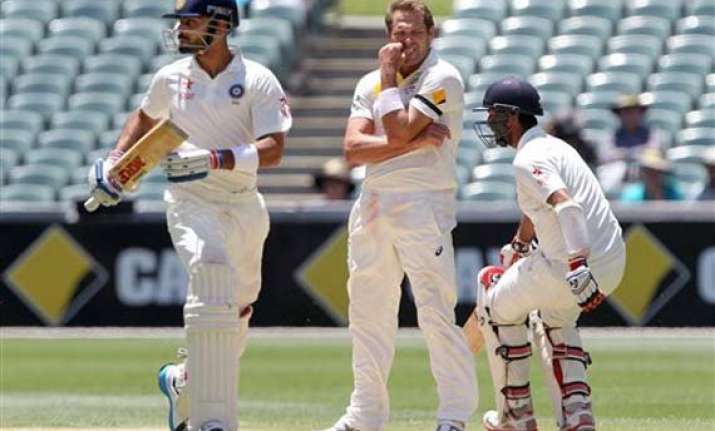 Adelaide: Kohli's maiden Test as captain has not gone according to plan. The Indian batsmen will have to score a minimum of 400 in their first innings if they are to carve out an escape route here.
India's gained some ground courtesy their top order, and they'll be looking for the remaining batsmen to string together some useful cameos.
Nathan Lyon, who got alarming extra bounce and good turn, was the most effective of the Australian bowlers with 2 wickets, despite conceding 103. Harris and Mitch were on target in patches while Siddle looked flat and jaded.
Against the run of play at the fag end of the day, Mitchell Johnson returned to bounce out Kohli to lift the Aussies. Rohit's innings has been a mixed bag - streaky edges counterbalanced by crisp drives. India will look up to the Mumbai batsman and Saha to push India closer to Australia's score.
Vijay, Pujara and Rahane got to fifties each, but failed to convert it into a big one. Kohli, returning to the venue of his maiden century, kicked on to score a sublime ton. He started steadily, getting his eye in before unfurling his wide array of strokes - the flick from the stumps, the straight drive and back foot punch among others.
If the first couple of days belonged to the hosts, day 3 was India's, headlined by Captain Kohli's top hundred. The game is still evenly balanced. After Australia declared on their overnight score of 517, India began well with Dhawan scoring a flurry of fours while Vijay was his circumspect self. Then, Dhawan threw it away, dragging a Harris ball back onto the stumps
STUMPS DAY 3
India 369/5 after 97 overs
Rohit 33 (61), Saha 1 (16)
Johnson greeted Saha with three back to back bouncers before he ended the Day 3 with a maiden over to him which included couple of bouncers as well. Saha is inexperienced and Johnson is threatening him with these. Not to forget they are teammates in Kings XI Punjab IPL franchisee.
Just at the time when Kohli and Rohit were looking good and playing cautiously before the end of today's play, Kohli loses his wicket to Mitchell Johnson in a short delivery banged to deep square leg and caught by Harris. He need not to do that because the day was about to end and he could have played defensive to end the day without any more loss. They were set and could have started with fresh energy tomorrow morning.
Wriddhiman Saha is the next man in at no. 7
India 367/5
Virat Kohli c Harris b Johnson 115
OUT! Kohli is out! He hits in the air and Harris takes the catch at backward square leg boundary. There was absolutely no need to play that shot as the day was coming to an end.
The play will be extended for half an hour more today and rest of the days because of overs lost yesterday.
India 360/4 after 90 overs
Kohli 112 (170), Rohit 28 (49)
Rohit Sharma coninues his form in test cricket as well. He scored two boundaries each of Mitchell Marsh and Nathan Lyon and India scored 26 in last five overs. Kohli on the other hand is rotating strike regularly. Though there were two huge appeals by Lyon for lbw in 90th over but umpire turned them down.
India 334/4 after 85 overs
Kohli 104 (160), Rohit 11 (29)
Harris bowled the maiden first over but Kohli has been targeting Johnson with the second new ball and struck three boundaries. He completed his 7th test century with a brilliant on-drive for four off Mitchell Marsh. This is the ground where he scored his maiden test hundred and he now becomes only the third Indian to hit a ton on captaincy debut. India also evaded the follow on successfully.
New ball has been taken and Ryan Harris comes to bowl the first over.
DRINKS BREAK
India 306/4 after 80 overs
Kohli 78 (142), Rohit 9 (17)
Lyon was hit four to deep square leg after he removed well set Ajinkta Rahane in 75th over at an individual score of 62. Both Kohli and Rohit on the crease are playing cautiously against the spin. Second new ball will now be taken and the umpires called for drinks.
Rohit Sharma comes to the crease at no. 6
India 293/4
Ajinkya Rahane c Watson b Lyon 62
OUT! Nathan Lyon strikes. Second wicket for him today. India lose their wicket again just when the partnership was going strong. The extra bounce on this delivery did the trick. It was tossed up and Rahane was looking to defend, the ball bounces extra out of the rough and loops up after hitting the handle of the bat. Lyon has started getting some help from the pitch.
India 293/3 after 75 overs
Kohli 74 (131), Rahane 62 (74)
Steven Smith came in as 7th Australian bowler and is welcomed by Kohli with a long-on boundary on the very first ball. On the other end, skipper Virat Kohli is also well set and both must be looking to remain unbeaten till the end of the day. They both have added 101 runs in the partnership and look to be in no trouble facing the spin of Nathan Lyon and Smith as of now.
India 267/3 after 70 overs
Kohli 58 (113), Rahane 52 (62)
Rahane has been looking good. He struck four boundaries of Peter Siddle and Ryan Harris to gets to his 5th half century in just 61 balls in 11 test matches. This partnership of 72 runs between him and Kohli is really getting frustrating for bowlers.
India 238/3 after 65 overs
Kohli 53 (99), Rahane 29 (46)
Kohli gets a couple towards deep covers and gets his 10th half century on the very first ball of the third session. Rahane survived a run out chance after Kohli hits back to the bowler Lyon in the last ball of 62nd over. Rahane was backing up too far and had the ball hit the stumps, he would have gone. However he hit two boundaries off Peter Siddle and took his individual score upto 29 after 65 overs.
The players are walking out to the centre. India has batted well, but they still trail by 294 runs. Kohli is just two short of his half century.
Third session will be underway in moments. It would be interesting to see that how much total can India put on the board till stumps.
--------------------------------------
The third session promises to be even more interesting as the battle between the Indian batsmen and the Australian bowlers intensifies.
India must be happy with how things have turned up in this session. This the second consecutive session they have dominated. They scored 104 runs in 29 overs in this session and lost the wicket of Pujara in a very unlucky manner.
Kohli has looked good. His wristwork has been phenomenal and along with Pujara, they both were looking good to take India to a big total. Pujara, who fell 27 short of a century, was the aggresor in their partnership. After Pujara departed, Kohli took it upon himself to fight it out along with Rahane, who has looked a little streaky, but has managed to survive.
Lyon has looked the most threatening as the ball has offered very little to the seamers. Lyon is getting both turn and extra bounce from the pitch.
TEA BREAK
India 223/3 after 61 overs
Kohli 48 (85), Rahane 19 (36)
Rahane hits a boundary on the backfoot behind square in the last over before tea. Bue he is living dangerously out there. There was a huge appeal for caught behind by the bowler Johnson and rest of the players but umpire Erasmus ignores as it was the bat which touched the ground. The ball is moving away from the right hander troubling the both batsmen, especially Rahane. Lyon continues to trouble the Indians with efficient bowling. He is bowling slow through the air and also getting turn.
India 199/3 after 55 overs
Kohli 38 (67), Rahane 5 (18)
Rahane gets off the mark with an elegant cover drive for four off Nathan Lyon but runs seems to have dried up for India and the scoring rate has come down after Pujara's dismissal with only 7 runs in last 5 overs. After losing 3 wickets before the total of 200, the batsmen are trying to settle themselves playing only defensive shots as they still need 119 runs to avoid follow on.
India 192/3 after 50 overs
Kohli 36 (52), Rahane 0 (3)
Pujara and Kohli had so far dominated the first post lunch session but they could not last long after the unfortunate dismissal of Pujara on 73 in 50th over. Haddin also missed a difficult chance of Kohli's inside edge as it falls short of him but managaed to save four runs for the team.
Ajinkya Rahane is the next man in
India 192/3
Cheteshwar Pujara b Lyon 73
OUT! Pujara is bowled! That delivery came in to Pujara, the ball takes the inside edge onto the back of the left leg and rolls back onto the stumps. What an unfortunate way to get out. Another wicket of a well set batsman when the partnership was going strong.
DRINKS BREAK
India 180/2 after 46 overs
Pujara 71 (130), Kohli 26 (36)
Shane Watson had been introduced in 45th over for the first time in the match and conceded just a single to Pujara. Ryan Harris restricted Virat Kohli for a maiden over but well set Pujara struck him for two boundaries in an over on the off side. However Kohli did scored a perfect square cut to put the ball behind the sweeper cover boundary.
India 162/2 after 40 overs
Pujara 59 (107), Kohli 20 (23)
Things are not looking all that good for Australia as Pujara seems to have settled down after scoring his 6th half century is test cricket. He struck some beautiful drives off Siddle and Harris. There is not much in the pitch too for the bowlers. There was a scary moment when Pujara took a risky single. A bit of misunderstanding and Kohli was almost gone if the direct hit had gone right. He had to put in the dive to get in.
India 142/2 after 35 overs
Pujara 42 (85), Kohli 17 (15)
India started well the second session with Kohli and Pujara both hitting boundaries of Peter Siddle and Johnson. The very first ball after the lunch was smashed through covers for a boundary by Kohli off Mitchell Johnson.
Johnson to resume bowling and Kohli takes the strike
Kohli and Pujara need to set up a good partnership here so that the pressure on the further batting line up does not increases.
The second session is about to get underway.
----------------------------------
India would be happy with that session of play. After losing well set Dhawan early, Murali Vijay who looked good on the crease with classy and perfectly timed drives departed as well after scoring his 7th test half century. Overall 119 runs in 32 overs in the opening session of the day  and trailing with 398 runs, is not a bad start. However India would have liked Vijay to stay there longer. Pujara is out there with the skipper and Kohli will want to do the maximum as a captain.
There was a kind of emotional moment for Johnson before lunch when a bouncer struck Kohli's helmet on his head. Every Aussie player went to him to check whether he is fine or not. It was good to see Clarke consoling the bowler and asking him to continue. India need to be cautious about such short pitch deliveries to survive in the test match.
LUNCH BREAK
India 119/2 after 32 overs
Pujara 34 (77), Kohli 3 (4)
Virat Kohli was welcomed with a bouncer on the first ball struck on his helmet right on his head. Australia players gathered around him to check whether he is fine. Murali Vijay gets his 7th test half century before getting an outside edge to Haddin in the same over. He tried to get settle early and attack later but couldn't last longer. Couple of good bouncers bowled to him by Johnson kept him under some kind of pressure. Vijay got the start he wanted but Pujara on the other end looks much more defensive than him. He finishes off with a boundary in the last over before lunch off Ryan Harris.
Virat Kohli is the next man in for India
India 111/2
Murali Vijay c Haddin b Johnson 53
OUT! Outside edge and gone! That was the length Johnson was looking for and Haddin made no mistake.
India 101/1 after 25 overs
Vijay 49 (74), Pujara 23 (53)
Bringing in Nathan Lyon early in the day, didn't worked for Clarke. He is targeted by Murali Vijay who whacked him for another SIX coming down the pitch. Mitchell Marsh on the other end is not letting the batsmen to score easy runs.
India 82/1 after 20 overs
Vijay 36 (58), Pujara 17 (39)
Clarke is shuffling his bowlers regularly. Australia introduced 5th bowler in the morning, replacing Johnson again with Mithcell Marsh. Though he didn't conceded much and kept it tight for the batsmen but was replaced by Nathan Lyon after one over for the change of his ends. Vijay who was looking defensive smashed Peter Siddle for two boundaries and Lyon for the first SIX of the match over long-on for the 50 run partnership with Pujara.
DRINKS BREAK
India 62/1 after 15 overs
Vijay 17 (42), Pujara 16 (25)
Vijay survived a scare after he gets an outside edge that went through the slips. Johnson has conceded 5 out of 7 boundaries so far. He was introduced back into the attack after Dhawan's dismissal. Batsmen are playing it defensively to get settled. No attacking shot can be seen as Vijay and Pujara are constantly taking singles and doubles.
India 43/1 after 10 overs
India has a decent start in first 10 overs after Ryan Harris knocked over the stumps of Dhawan when he was looking good at the score of 25. Australia introduced Nathan Lyon very early in the game replacing Johnson who was hit for four boundaries by Dhawan. Clarke continues to shuffle his bowlers after bringing in Peter Siddle in place of Lyon but he conceded 8 runs in his first.
Cheteshwar Pujara is in at no. 3
Shikhar Dhawan b Ryan Harris 25
OUT! That's an early breakthrough Australia wanted. It was straight and Dhawan came across with a straight bat, gets an inside edge onto the stumps. Harris gets his man who looked in good touch.
India 19/0 after 5 overs
Johnson and Ryan Harris opened the attack for Australia. The ball is getting good bounce and carry to the wicketkeeper which shows that the pitch is still alive. Dhawan survived a tough dropped chance by Haddin after he gets an inside edge of Johnson's over. But he looks in good touch after smashing Johnson for three boundaries in an over. Vijay on the other hand is trying to be defensive after playing two maiden overs.
Mitchell Johnson to start the proceedings for Australia and Murali VIjay takes guard with three slips, a gully and a short leg
Australian players are charging onto the field and the Indian openers Shikhar Dhawan and Murali Vijay are walking upto the middle.
The news coming in that Australia have declared. So we will have India coming on to bat now.
The weather looks pretty good and he will have a full game.
The play will start today and rest of the days half hour earlier at 5 am than the scheduled time according to Indian timings.
It would be interesting to know how long will the Australians bat today and what is the score they have kept in mind. They might want to pile up a huge total and then put Indian batsmen under pressure with the pace of Mitchell Johnson, Ryan Harris and Peter Siddle. Thankfully the weather forecast for today is clear and brighter.
Only 30.4 overs were bowled yesterday and Australia have hammered 163 runs. Bowlers were butchered by Steven Smith and Michael Clarke through out the day. They lacked rhythm and penetration with the same old story petering out. Fielding was also a bit sloppy, dropping crucial catches and missing run out chances.
Second Day had been a start-stop day, but Australia's moment was always on the upswing. They continued to score runs with the run rate of above 4.Steve Smith and Michael Clarke scored hundreds each to flatten the Indian attack. Later on, both cut loose and powered the hosts past the 500-mark before Clarke departed.