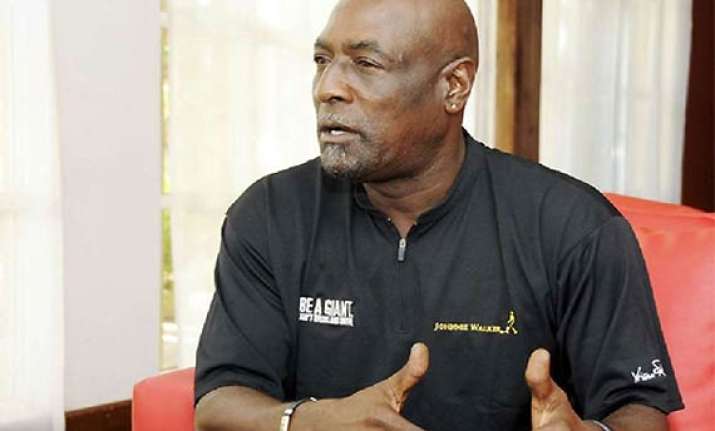 St. John's, Dec 16: Batting great Vivian Richards has slammed the WICB for its failure to sort out the differences with Chris Gayle and said he finds the cricket board's decision to ask the former captain to apologise "ludicrous" and "a little far-fetched".

The 59-year-old Richards said he does not agree to everything that Gayle did but felt the left-handed batsman still needs support.

"I would like to believe that at present, the West Indies Cricket Board is basically making Chris Gayle out to be this villain about apologising and what he has got to do, the criteria that is required for him to be part of the unit again, and I just think that's a little far-fetched in my opinion," he told the Antigua Observer newspaper.

"Let me also take this opportunity to say that I am not in Chris Gayle's corner (with) most decisions he makes, but I think that this whole issue is potent enough and I feel he needs some support," he added.

The 32-year-old Gayle has been sidelined from West Indies national team since the 2011 World Cup, for criticising the cricket board and its head coach Ottis Gibson in an interview with a Jamaican radio station.

Numerous meetings were held between the WICB and Gayle with the former demanding an apology, which the talismanic opener refused.

Richards said how can the board ask Gayle to apologise when they themselves have not been living up to their responsibilities.

"It is ludicrous for the WICB to ask Gayle to apologise when they know that something was wrong and maybe these are some of the issues Gayle was trying to address," said Richards.

"He may or may not apologise, but that's his particular call. But what I am saying is that how dare them at this point wanting so much from Chris when they have given so little?"

Richards said he could not advise Gayle what route he should take, but it was clear that he wanted to play for West Indies -- and that he could make a difference to the fortunes of the side.

"I guess just judging from what I would have seen that he clearly wants to be in the West Indies team. But sometimes you need to go through these periods of time where there are tribulations and you can shape your whole life how you want to in future and I guess that he realises this and he is getting older and he would like to make a contribution," he said.

"I guess they can be a turnaround because what I do see and maybe it was all in evidence for us to have a look as well, when he was in the IPL, how enthusiastic he looked.

"He was jumping around just having fun and after seeing that, maybe given another opportunity he could help to shape things," said Richards, who made his Test debut back in 1974 against India in Bangalore and his ODI debut a year later against Sri Lanka.

Gayle is preparing for the Big Bash League Twenty20, in which he will represent the Sydney Thunder.