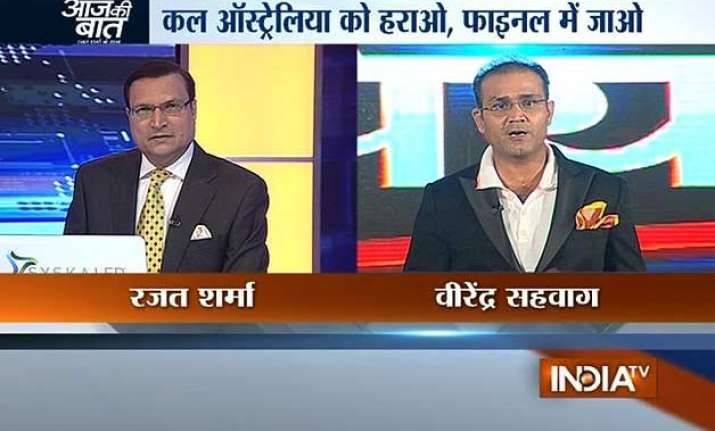 New Delhi: An undefeated India will face their biggest challenge of the cricket World Cup when they take on co-hosts and four-time champions Australia in the latter's backyard at the Sydney Cricket Ground (SCG) here on Thursday.
Former Team India's swashbuckling opener Virender Sehwag, while speaking to IndiaTV, has said that tomorrow's semifinal clash will be the most crucial match for Team India.
If India can defeat Australia then chances of Team India defending the world championship will become stronger as the other finalist New Zealand till now has played under home conditions and playing the big final in Melbourne may not be so easy for the Kiwis.
Read Also:  World Cup 2015: India, Australia renew rivalry in semi-final
Sehwag also said that Australia will be under much more  pressure because of playing under home conditions with 70% spectators supporting the 'Men in Blue'. Team India has been performing well on all the three departments right from the commencement of the World Cup and the support of the fans will be added motivation for Dhoni's boys to excel against Australia.
He also said that losing to Australia just ahead of the World Cup in the Test and ODI series will not be playing in the minds of the players   and that every Indian player will try to perform well against a well balanced Aussie side.